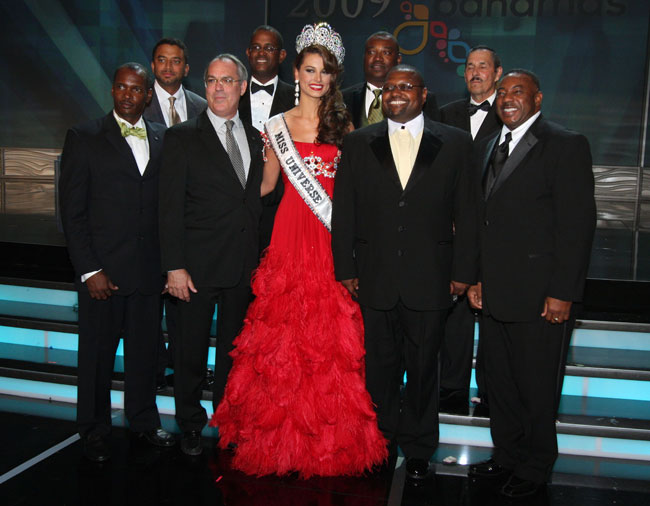 <<< Nineteen year old newly-crowned Miss Universe, Stefanía Fernández, shares the spotlight with Cabinet Ministers following the live telecast of the 58th annual Miss Universe Pageant. Pictured from left (front row) are Minister of Youth, Sports and Culture, the Hon Desmond Bannister; Deputy Prime and Minister of Foreign Affairs, the Hon Brent Symonette; Minister of State for Culture, the Hon Charles Maynard; Minister of State for Local Government, the Hon. Byran Woodside (back row) Minister of State for Immigration, the Hon Branville McCartney; Minister of National Security, the Hon A A T 'Tommy' Turnquest; Minister of State for Public Utilities, the Hon Phenton Neymour; and Minister of Agriculture and Marine Resources, the Hon. Larry Cartwright.
Nassau, Bahamas – History was made in The Bahamas on Sunday when a Miss Venezuela was crowned Miss Universe for the second consecutive year.
"I feel honoured to be representing my country in this way," said nineteen-year old Stefanía Fernández, "It's very exciting that we brought the crown home again to our country."
The win marked the first time that an outgoing queen, in this case Dayana Mendoza. Fernández crowned her successor from the same country. It marked an exciting end to the 58th Miss Universe pageant held at the Atlantis, Paradise Island.
Venezuela won its sixth crown and now holds the second most titleholders, one les than th USA, in the Miss Universe. First runner up Dominican Republic had had its strongest finish since 2003, and second runner-up Kosovo debuted last year.
Executive Producer of Miss Universe, Donald Trump, said the event was a success.
"I'd like to thank Dayana (Mendoza) for the excellent work that she's done during her reign," said Trump.  "I'd like to congratulate the new queen and look forward to working with her."
The runners-up included, Miss Dominican Republic, Ada de la Cruz in first place; Miss Kosovo, Marigona Dragusha in second place; Miss Australia Rachel Finch in third place and Miss Puerto Rico Mayra Matos in fourth place.
Other awards included Miss Congeniality, which went to Miss China Wang Jingyao; Best Costume went to Miss Panama, Diane Broce and Miss Photogenic went to Miss Thailand, Chutima Durongdej.
This marks the first time the Miss Universe preliminary competition was streamed online to a worldwide audience. The competition was broadcast live on NBC and Telemundo.