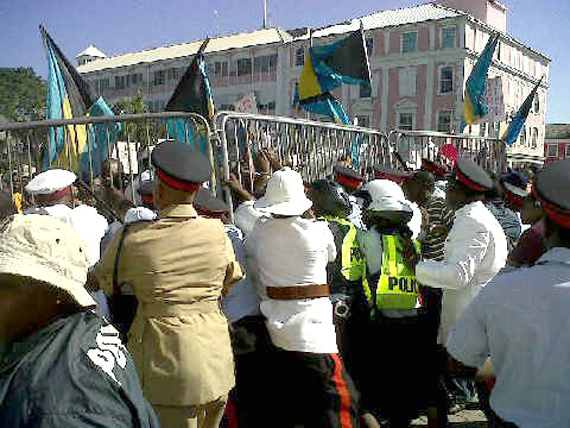 Nassau, Bahamas — We here at BP went to Parliament today with thousands of other Bahamians. We were shocked and amazed by the barricades and Police Officers sent out by the Outgoing Ingraham Corrupt Regime to thwart the rights of the Citizens. We thought we were in Libya or Tunisia. A lady was beaten with a baton and taken to the hospital, someone has to pay for the shameful act.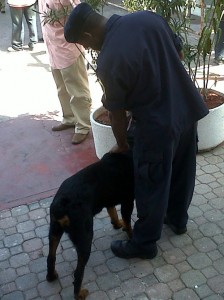 We cry shame on the Minister of National Security, Tommy Turnquest, who supposedly had the Police acting like a military Junta against the good people of this Country.
We cry shame on the Commissioner of Police for allowing these acts to happen. Well we do not think any better of the madman, Papa Ingraham who now cannot be distinguished from Col Gadhafi in our minds. The Police brought Dogs to Bay Street to stop a peaceful demonstration by the Union Members. This cannot be right, is this what Papa thinks of us?- that we are dogs?. We cry shame on the FNM members who sit and say nothing while Papa destroys this Country with his policies.
We did have a few friends who we protected on the Government side and members of the Cabinet, however, at this time, all bets are off. If they can sit as mutes- deaf, blind and dumb, we will make them pay at the polls.
We cry dutty wutless shame on Papa and the entire FNM Government for bringing the Dogs to Bay Street, we now need to treat them like the Mongrels they are, we are hopping mad. PAPA shame on you, Tommy, double Shame on you, we pray to the "Almighty" that you all get your just reward.