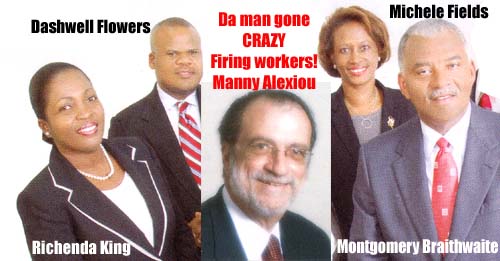 Nassau, Bahamas: ColinaImperial, the parent company of the Nassau Guardian, has finally sacked its former president Monte Braithwaite. Bahamas Press reported on July 16th, 2008, that the entire executive management team at the Insurance giant had been FIRED.
However, a day following the dismissal of the entire executive, the 'toilet paper' in an interview with now former President Braithwaite said he was not going anywhere. He reported to the 'toilet paper' that he was still on staff at the ColinaImperial Insurance Giant.
We all now know Colina controlling much of the media in the Bahamas, and therefore we expected nothing less but a WUTLESS response from them. However, BREAKING NEWS coming to Bahamas Press now confirms that Braithwaite was kicked out in December 2008 and sent home for GOOD!
Our question to the current executives at COLINAIMPERIAL is this, WHAT WENT SO TERRIBLY WRONG AT THE LARGEST INSURANCE COMPANY HERE IN THE BAHAMAS, TO WARRANT SUCH A MASS EXODUS OF THE ENTIRE MANAGEMENT TEAM?
We knows the days leading up to the collapse of CLICO Bahamas, many financial institutions in the country began moving money OUT OF ACCOUNTS. And again we wondered why?
Days before we broke the news of the executive team exodus at ColinaImperial, every policy including our pension fund held at the company was withdrawn. For as mama once told us on the island, "Son, be careful who you do business with, because the world is filled with TRICKY MEN!
AMEN!