Grand Lucayan Should be Ready for 2017 Winter Season: Country's Success Depends on Baha Mar/Atlantis/Lucayan Success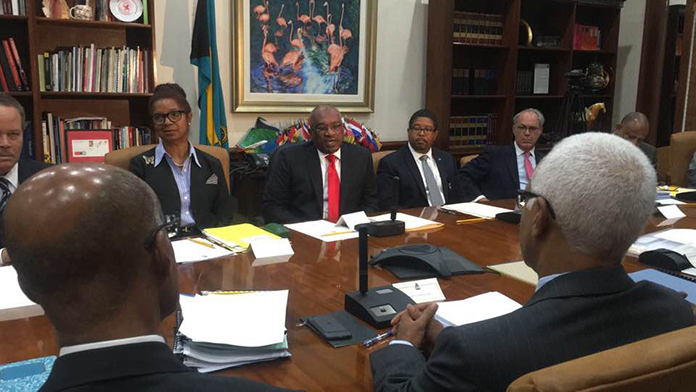 NASSAU, The Bahamas – Renovations at the Grand Lucayan in Grand Bahama are expected to begin within the next month with the facility expected to be ready in time for the 2017 Winter Season.
Prime Minister, Dr. the Hon. Hubert Alexander Minnis said, in his national address, July 26, that the Government of The Bahamas is intent on resuscitating the Grand Lucayan "as rapidly and as sustainably as possible" and thereafter sell its equity to one of the existing partners or other investors in a bid to turn the Grand Bahama economy around.
Dr. Minnis said the Government has also identified a number of integrated travel and hospitality companies that can bring not only quality brands to Grand Bahama, "but also much-needed air transportation."
Prime Minister Minnis said his Administration will focus on a number of tourism initiatives "to get our economy going again" while not excluding the urgent need for diversification within tourism and other sectors and other potential areas of growth.
Prime Minister Minnis said this will not happen without a successfully operating Grand Lucayan, a successfully operating Atlantis and a successfully operating Baha Mar Resort.
"I recently toured Baha Mar where I received assurances from the managers of the hotel of a timeline for the mega-resort coming fully on stream. This will help to improve the fiscal condition of the country inclusive of public revenue," Prime Minister Minnis said.
"I have also visited Atlantis on Paradise Island. It is most important to our economy that both of these mega-resorts succeed. My Administration will do all that we can to ensure this outcome.
"We need to get our people back to work and to get our economy on the path to making it again the envy of our region. This will not happen without a successful Baha Mar. Their success is The Bahamas' success. We will do all we can to aid them in attaining this success," Prime Minister Minnis added.
Dr. Minnis said statistics show that while at least 65 per cent of the economic activity and more than 50 per cent of the jobs of The Bahamas are delivered from the tourism sector, just 60 per cent of the country's hotel and resort rooms are occupied annually.
"If we manage to achieve near 80 per cent occupancy in our hotels on a year-round basis, we will increase our economic activity and jobs from tourism by one-third," Prime Minister Minnis said.
"This will cause a considerable dent in the unemployment problem facing our country. Even as I have spoken at some length on Grand Lucayan, Atlantis and Baha Mar, my Government will also address the needs of the more than 250 smaller and licensed properties in Nassau, Paradise Island, Grand Bahama and throughout our Family Islands.
"We will introduce further incentives to small hotels where local produce is on the menu," Prime Minister Minnis added.