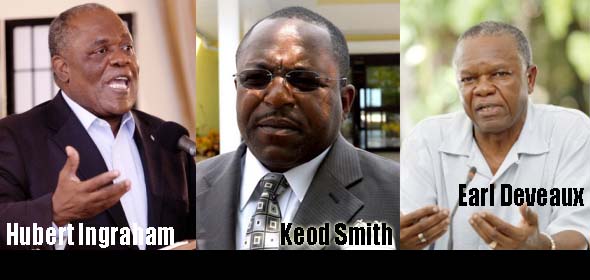 Nassau, Bahamas — In less than a day following our report of pending resignations from the Free National Movement, another daily has hinted that a Veteran FNM will step down and not offer for reelection whenever the next general election is called.
Now, this is no surprise to us, when considering that there are several FNMs who will not be on the ticket come 2012.
BP has already reported that both Neko Grant and Kenneth Russell will not seek another term in elected office. But that's no surprise. And we have also already reported that Papa isn't running. BP SAID SO MONTHS AGO!
However, when we think about it, we wonder if the story in the 'Toilet Paper' on Friday was a hint of 'Helicopter' Earl Deveaux, who has turned out to be the FNM poster-boy for what a corrupt government official look like.
You see, based on the results of the efforts of a team of environmental conservationist led by former MP and Ambassador for the Environment, Keod Smith, when you mention Deveaux's name, some seriously scandalous events come to mind involving breaches of the criminal statutes of The Bahamas as well as the code of conduct of Parliamentarians and Cabinet Ministers.
Number one, we think about his escapade to a personal private event in Abaco [north of Nassau from where he embarked] on a luxury helicopter owned by the Aga Khan, new owner of Bell Island for tens of millions of dollars.  Earl's unbelievable excuse was that the helicopter was taking him to a meeting on Bell Island which is south of Nassau.  However, he could not explain how he legitimately ended up on Abaco, which is north of Nassau.  Not only did Hubert Ingraham not do a damn thing about this flagrant breach by 'Helicopter' Earl, he endorsed the corrupt behavior.
Then we think about some statutory approvals behind the gates of Lyford Cay for a 2006 construction of a boat basin on the private property one of its resident, Mr. Louis Bacon. BP is amazed that 'Helicopter' Earl is still standing in the Cabinet of a Prime Minister who said that he would not stand for corruption of his Ministers.  The footprint of the project extended on the sea-bed which is government land. Not only was a Statement of the former responsible PLP Minister government tabled in the Senate that no approval was granted by him or with his sanction according to law, FNM Senator and Leaders of Government Business in the Senate, Hon. Dion Foulkes said on the floor of the Senate that approval for the construction was given 'after the fact'.  The Minister responsible under the current FNM Government is 'Helicopter' Earl.  BP has learnt that according to law, what was done amounts to an imprisonable criminal offence.
What seems to be the straw that broke the camel's back for the FNM, is the fact that a boat captain out of Central Andros has sworn an Affidavit saying that he rescued 'Helicopter' Earl off of a stranded barge that was bringing in the excavator that has been carrying out unlicensed dredging in the environmentally sensitive  channel at Kamalamae Cay in Andros.  What makes this highly questionable is the fact that 'Helicopter' Earl was on that barge in his personal capacity giving the impression that he had some ownership in the barge and the project at Kamalame Cay.  Matters are made worst when we consider that the owner, Mr. Brian Hew, formerly of Jamaica, was reportedly recently given citizenship to The Bahamas.  This is certainly something that makes you go, Uummmm!!
No-nonsense Keod Smith, who is known as the MP that kept Ingraham in check during the Christie Administration between 2002-2007, seem to be the reason in BP's estimation that has forced the warning to Papa to serve notice to that veteran FNM; whom we believe is 'Helicopter' Earl.  If it is not Helicopter Earl, Papa needs to know that his cooler, Keod Smith, a real PLP master tactician, strategist and articulate orator, is coming to expose them all and don't say we didn't warn you!
BP will watch this closely and keep you informed. Stand-by!