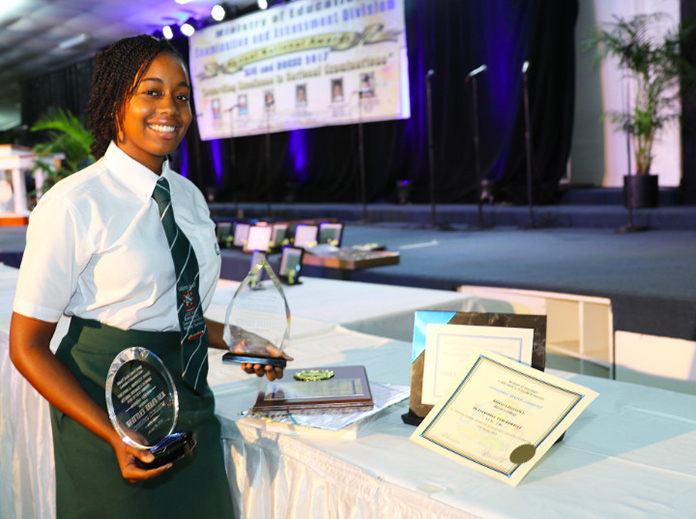 NASSAU, The Bahamas — "There is a Japanese word, 'Kaizen,' an operating philosophy that speaks to continuous improvement and evolution." This was the opening statement made by the Minister of Education, the Hon. Jeffrey Lloyd as he informed the 2017 BJC (Bahamas Junior Certificate) and BGCSE (Bahamas General Certificate of Secondary Education) high performing, national awardees that they are in a state of constant evolution, just like the universe, whether they know it or not.
Students from both government and private schools all over The Bahamas were awarded for Honorable Mention, Best Performance by Subject, Best Performance by Island and many other sub-categories of the BJC and BGCE levels. The Ministry of Education Annual National Awards Ceremony took place at the Church of God Convention Center, Joe Farrington Road, on Monday morning, January 15, 2018.
The student who achieved the Best Overall Performance in the BGCSE Examination was Ms. Whitley Deleveaux of Queen's College in New Providence, also achieving the Best Results by Island with 11 A's and 2 B's. She received both the Carol Hanna and the Paul L. Adderley awards.
Minister Lloyd reminded the students that A's and B's are very important but "you went to school to learn how to learn, so that you can teach yourself…have the courage to follow your heart."
While congratulating students for their great achievements, Minister Lloyd remarked on the great improvements that must continue to be made. He thanked the teachers, caregivers and mentors "from the top and bottom" of his heart and stated that their dedication and support are not done for the applause.
Minister Lloyd left the students with a reminder: "Your time is limited, so don't waste it living for someone else."