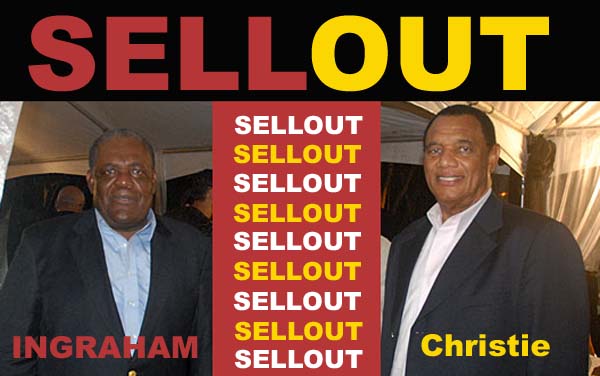 Nassau, Bahamas — Ingraham and Christie have given new meaning to the word 'SELLOUT'. And after 36 years of Independence, The Bahamas is clearly a different place for the ordinary Bahamian.
Our parents and grand parents today would holler in disgust to see what these two political shysters have done to The Bahamas. What do we have left? And where in the world are we as a people headed with this kind of WUTLESS leadership?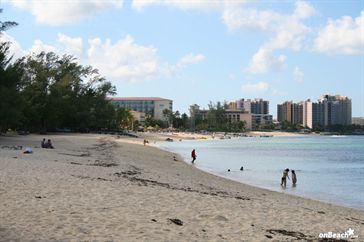 We may not know much about financial matters, but we certainly know what is happening when we see Bahamians being shafted day after day by its political leaders, who deny Bahamians the right to opportunity. They've both accepted others over Bahamians and we shall explain. Here are some examples:
Ingraham gave a multimillion dollar road contract to a bankrupt company during the FNM's first term in office. This time around he awards another road contract to a company, which went bankrupt while executing multimillion dollar roadworks in Jamaican. And why would Ingraham give it to a foreign contractor when Bahamians just completed the Tonique Darling Highway? He's a SELLOUT!


More than $200 million of public money was used to send BTC workers home in the first FNM term. Ingraham sent home 36 year-olds in an effort to sell a profitable company. BTC was generating $350 million a year. Why would he do this? Because he's a SELLOUT!


Then it was BahaMar on Cable Beach. Christie decided that Baha Mar Resorts was about to build its pipe dream for The Bahamas. The government agreed to sell everything in Cable Beach, including the road, Goodman's Bay beach, The Development Bank building, The Gaming Board building, The police station, The straw and craft centers and the Sir Cecil Wallace Whitfield building [The Bahamian White House] all for $40 million. It was all done on a promise that "NO BAHAMIAN WILL LOSE THEIR JOB!" It was repeated over and over and over. The ads are still running on ZNS with a promise from Baha Mar. Ingraham came into office and gave his approval on the agreement. Months after the deal was inked, Bahamians were being sent home. Fired from the property whilst both leaders made NO COMMENT! They refused to remind Baha Mar of their commitment to the workers. And by March 11th 2009, Baha Mar was telling the public in a press release that it was siging a preliminary construction work agreement the Chinese. And requesting the labour permits for those same asian workers. Once again, in the midst of all this firing and layoffs of Bahamian construction workers, Bahamians are SHAFTED again! And Bahamians ga let that happen in their country? HMMMMMMM! And why is not Christie and Ingraham speaking out? Because they SELLOUT The Bahamas!
The same WICKED plot against Bahamians was done when the decision came for Cable Bahamas. And now it's BEC and BTC time to be sold to foreign interest! SELLOUT!
But what most irks us now about Ingraham and Christie and their sophisticated shafting ways against the people of this country, is their recent decision to deal with the Lynden Pindling International Airport. Now this decision blew our fuse and here's why. Christie you would remember was the first to cause LPIA to be placed into the hands of a Canadian management team [NAD]. He was confident in his conclusion to do this, confirming NO Bahamian [Even some who run International Universities] could manage the airport. WHAT SHAMEFUL THINKING! NAD's responsibility was to transform the airport into an international facility. That management team first decision; kicked off property all the small struggling food vendors. Christie and Ingraham said not a word. They then brought in Starbucks, Wendy's, Dunkin Donuts and the rest of everything foreign. And no one has asked yet, when will a scorched conch stand, a Bamboo Shack, a Rosalees, a Shoal, a Reef, a Twin Brothers and its World Famous Diaquiri or a CocoNuts Bar and Grill – all Bahamian restaurants – will have their place in this same airport facility. And sadly, Christie and Ingraham, again, say not a word!
NAD then had Ingraham increased tax fees on residents and visitors using the facility in the first year of his coming to office.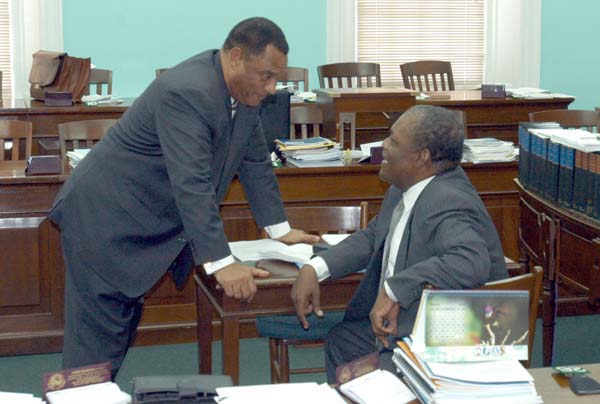 We now know LPIA will be the largest public sector contract ever issued in the history of The Bahamas, thanks to Christie and Ingraham. But guess what, the contract to do the construction is also awarded to a Canadian firm, now isn't that strange? We also now know another Canadian firm won the design contract, which cost the taxpayers of this country $10 million to produce. Sound like NAD is a government to itself, helping itself to every deal it could whilst Bahamian contractors and architects sit on the sidelines. Christie and Ingraham, again, say not a word!
The LPIA will cost almost half a billion dollars [BILLION WITH a "B"], and what will Bahamians get out of the deal? We don't know. We don't what the Bahamian painters, tile layers, masons, plumbers, electricians, and carpenters will get in construction work, because the entire contract is already given to a Canadian company to produce. We could only cross our fingers, hope, pray, cry, pay our tithes, and stay in church wishing someone from the north [Canada] smile on us.
Some 36 years later and what have we done? Well the evidence is clear, The Bahamas is once again colonized. Its people shackled and chained in their small rented spaces whilst new motherlands plunder, rape and take possession on our virgin territory. Thirty- six years later Inagraham and Christie has once again delivered us as a plantation spot, somewhere in the Atlantic. Both leaders have brought us full circle. Selling us now together, both WHITE AND BLACK, TO THE HIGHEST BIDDER!
They have stacked us deep under the weight of growing mounds of debt, debt our grandchildren will never be able to pay. This is what our generation will leave the new one, unless we change our course. How can men and women sit around a Cabinet room and allow this to happen? How could they be so silent and watch these two sell its people out? How could they sit and see decision day after day, which clearly confirm a NO CONFIDENCE VOTE towards their neighbours and their own friends? Do they really believe only Canadians can build runways and buildings? WHAT A SHAME! WHAT A SHAME! WHAT A SHAME PEOPLE!
Today, we are no longer slaves of Great Britain, but slaves to Canada, Argentina, China, South Africa, Dubai and everyplace else. And guess who has delivered us to this new place of discovery? Yes you guessed it, Ingraham and Christie, whose names are now synonymous with the WORD "SELLOUT"!

We need Change Bahamas!