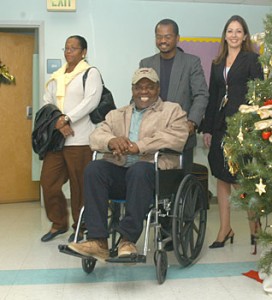 North Abaco, Bahamas — Hot off a campaign swing in Long Island last night, Bahamas Press is now headed to Abaco to let residents in that community know, Papa is running scared and all his 'lil' children are either sweating in the hands or is checking themselves into hospital as doors continue to slam in their faces. All across the country FNMs are not welcomed as constituencies are set to VOTE THEM OUT!.
The Outgoing Government MPs are so certain of their defeat, they are now running from their seats like rats at the school in Bartlett Hill Primary.
BP can tell you, the man who had strong words for the PLP and left the Party in January of 2009, Kenyatta Gibson, is hauling tail out of his once treasured Kennedy seat. Sources tell us last week the hard mouth six foot plus giant was alleged to have appeared in meetings wit a handful of soldiers in St. Thomas More. Why is BIG BAD KEN running to the hills? Does he see a yellow Tsunami coming? But he's not alone.
Junior Minister for the Environment, Phenton 'Hard Mouth' Neymour, sources deep in the apparatchik of the FNM say, is also fleeing the vicious political cut_you_know_what in South Beach. Now this is strange; Phenton appears to be running from a woman? NOT GOOD!
Sources say the FNM South Beach MP cannot face the music anymore and has decided to accept a nomination for Exuma. Poor tiny Tinny!
And if those were not enough to prove to you the FNM is running scared, go into Blue Hill, where Sidney Collie is about to hang up his Parliamentary suit for good. Papa fired him from the Cabinet, pardon us, asked him to resign and now Micheal Pintard the famous actor from Sandilands has been introduced to the constituency. We have one question on this decision though, WHY IS COLLIE RUNNING AWAY FROM THE HILLS?
Well folks, our report gets better. Neko 'Drunk Again' Grant isn't running anymore. Kenneth 'Da Janitor' Russell is also hanging in the mop, and so will Earl 'Helicopter' Deveaux be flying away. It appears that everybody in the FNM smells a cut [EXPLETIVE] coming!
Bahamas Press has more to tell of what is going on inside the apparatus of the FNM and here is one nugget for you; What happened to that ambitious woman set to run in a constituency in the northern New Providence.  We wrote about a her problems a few days ago. Stay tuned BP will soon tell.
Change is coming…