A BREAKING NEWS UPDATE >>>> NO RESPECT FOR THE HANDICAP!!! >>>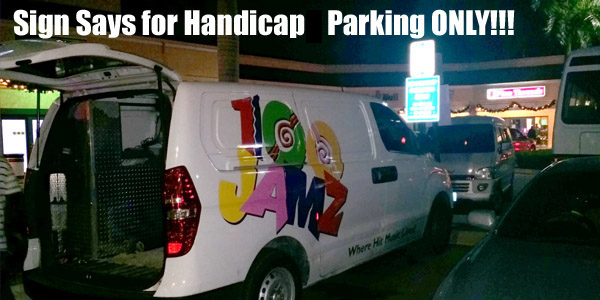 Some people just don't have a heart! They are heartless and cruel!
Nassau, Bahamas — Some people are just cold and heartless, and this past weekend the operators of the Tribune [100 JAMZ] were no example to the community.
With thousands of persons shopping in the Southwest Mall on Friday, several radio stations were carrying out live remotes. BP was live on the scene to witness the egregious sin committed by the Terlet Paper Dem against the disable.
Shown here is the live remote van of 100 JAMZ parked in a space assigned for the disabled. How heartless! Look what Mother Superior dem does teach their offspring to do to the disabled in our country: TAKE THEIR PARKING SPACES TO TALK JACKASS ON THE RADIO! Where is their conscience?
Why take the space of the crippled when there are thousands of parking spaces for those who are able?
We really need to do better in this country, and the operators of the Tribune and 100 JAMZ should set better examples for the weak!
We report yinner decide!