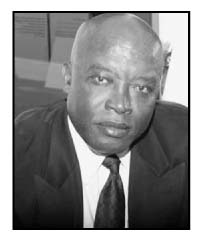 Bahamas Press read with interest today Ossie "Why You Scared of Murder" Brown's Guardian column. We could not help but raising an eyebrow when we read how he spent Valentine's Day alone. Well Ossie's wife #3, Dr. Jean Turnquest, barely escaped with her life year before last when he tried to "off" her in Jamaica. Her children were also there. They hardly got to eat the ackee and saltfish they went there to get.
Ossie's wife #2 wasn't so lucky when she was found mysteriously floating in waters on Saunders Beach – just across the street from where she lived. She was an African-born woman who was the sister of a Washington diplomat. Ossie married her in Washington just months after he was appointed Managing Editor at the Nassau Guardian. Weeks after her demise he started dating Dr. Turnquest, sister of former Governor General Sir Orville Turnquest and aunt of Minister of National Security, Tommy Turnquest.
Some feel Ossie is a stone cold killer as no one ever knew the story of the wife #1's demise. Then of course the attempt on the life of his third wife.
It is alleged that he left her in a car hanging on a cliff in mountanous Jamaica. The story goes that Ossie got in a heated row with the headstrong Dr. Turnquest while on vacation in Jamaica. He began driving eratically and ended up in a literal cliff hanger. He jumped out of the vehicle which was tipping over the cliff, left his screaming wife and step-daughters in the vehicle in the car and made his way on foot to the nearest town and sought a ride for HIMSELF back to the north coast hotel they were staying at.
It is said that Ossie never called for help for his family. Instead he went back to the hotel and enjoyed a few movies. His wife and step daughters had to crawl to one side of the car and make their way out. After that they hiked it back to the hotel where they found Ossie laying down watching TV. The marriage was over then.
Bahamas Press understands that Ossie is on the prowl for wife #4 and has been dating a VERY YOUNG (compared to him) former Guardian reporter. She had better watch out as life with Ossie is not easy. You have to literally sleep with one eye open.
Its amazing in this town how status and who you know can keep you from hearing the loud CLANKS of the old steel gates at Fox Hill Prison.