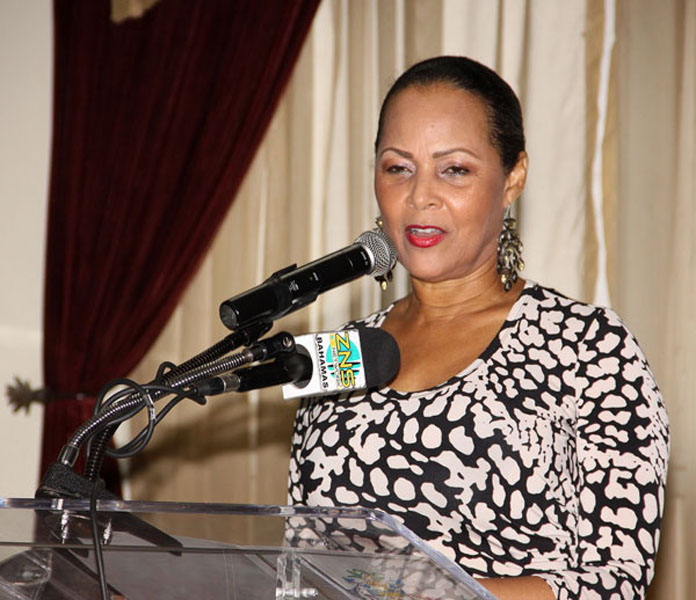 NASSAU, The Bahamas – Wife of the Prime Minister, Mrs. Bernadette Christie addressed a Thanksgiving Day luncheon under the theme, "Embracing Humanity," held in recognition of teachers, administrators and staff of Eva Hilton Primary School (formerly Oakes Field Primary School), and the Northwestern District Teachers of the Year 2015-2017, at the Paul Farquharson Conference Center, East Street, on Tuesday.
Guest speaker, Mrs. Christie said: "I am a firm believer that we can never bestow our teachers with adequate accolades; as their work is more than a labor of love but a true demonstration of service to humanity.
"Embrace each student for their individuality: mindful that all students are gifted learners and in the process, may you bring out the best in the lives of those students whom you will have the opportunity to positively influence. And truth is, your students will be forever grateful and thank you for the investment you would have made in their lives as you reveal the transformative power of embracing humanity," she said.
Mrs. Christie remarked that the individuals deserve so much more than thanks as they are tasked with the "awesome" responsibility of nurturing and educating the nation's youth.
The annual event, now into its eighth year, is sponsored by Paul Smith, President and CEO of Electro Telecom Ltd., and a former student of the school.
Participants included Howard Newbold, Northwest District Superintendent; Alicia Davis, Teacher of the Year; Paul Smith and students of the school.
Entertainment was provided by the Eva Hilton Pop Trio, the Royal Bahamas Police Force Band, and the Eva Hilton Primary Praise Team.
The Northwestern District Teachers of the Year 2015-2017 are: Theresa Turnquest, H.O. Nash Junior High; Colette Hanna, Stephen Dillet Primary; Tarinda Thompson-Rolle, C.R. Walker Senior High; Tammy Rolle, Albury Sayle Primary School; Paul Adderley, C.C. Sweeting Senior High School; Alicia Davis, Eva Hilton Primary School; Daphne Roberts, T. A. Thompson Junior High School; Jillian Pinder, T. G. Glover Primary School; and Anishka Gibson, Woodcock Primary School. (BIS Photos/Patrick Hanna)