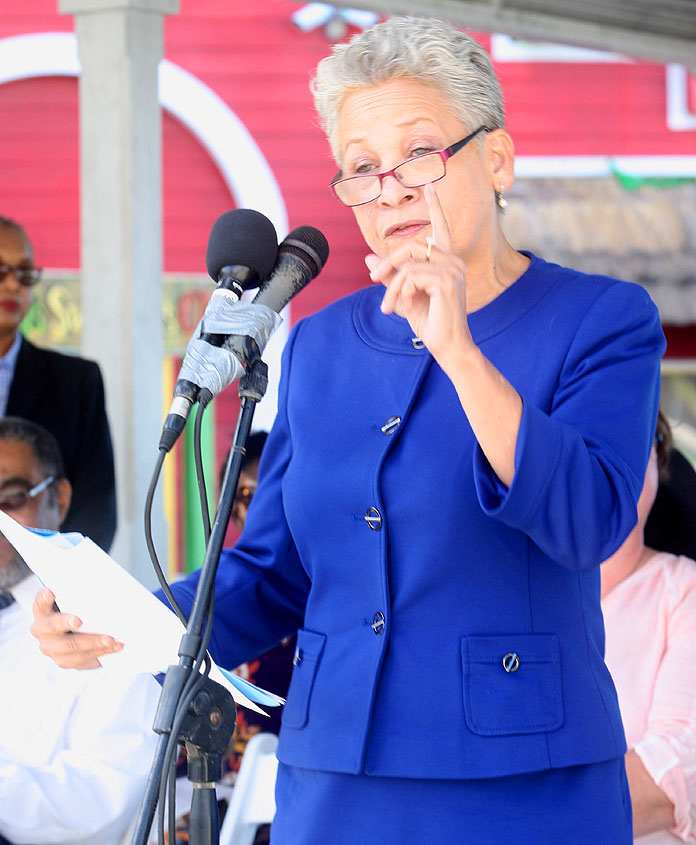 NASSAU, The Bahamas – The establishment of a Bahamas chapter of the Women's International Shipping and Trading Association (WISTA) in the Bahamas is an 'historic' event for the country. This, according to Minister of Transport and Aviation, Hon. Glenys Hanna-Martin, marks an important milestone for Bahamian women in the maritime industry. Speaking at a reception launching the newly established organization, the Minister said that it was a 'proud' moment for her as a woman and as a Bahamian. The reception launching WISTA was held on Thursday, November 10, in Pompey Square on Bay Street.
"This is a very exciting and historic moment as WISTA Bahamas is established in our country," said Minister Hanna-Martin. "The involvement of women in the maritime sector is paving a new way in the role that women play in the industry."
The Minister said that the global maritime industry is one of the most critical sectors on earth and encompasses approximately 90% of world trade. Given this significant amount, the Minister said that there exists a great deal of opportunities for women in the sector to 'break barriers,' which have historically held them back.
She believes that the implementation of WISTA, especially in countries such as the Bahamas, is critical. The Minister said given the importance of the maritime industry to this country, the government has recently undertaken two tasks in order to maximize its potential in the field.
"We have recently embarked on undertaking two tasks," said the Minister. "The first is to undergo a full comprehensive study of our maritime resources in the country – touching every role that water places in our society – in order to better understand the extent to which water impacts us as a people. And the second is that we have been involved in building capacity in the maritime industry via institutions and scholarships, etc."
Prior to the launch reception on Thursday, three Bahamian women — Michelle Pindling-Sands, Bertha Cooper Rousseau and Zarina M. Fitzgerald — have signed the Memorandum and Articles of Association for the purpose of satisfying the legal requirements imposed on establishing the non-profit company. The three women will become first members and the first directors of WISTA Bahamas Chapter.
During the reception, Ms. Jeanne Grasso, Executive Committee, WISTA International made a special presentation of hurricane relief supplies to the Hon. Cynthia "Mother" Pratt, Co-Chair Urban Renewal.
The Bahamas becomes the 41st member. Bermuda became the 40th member in October 2016.