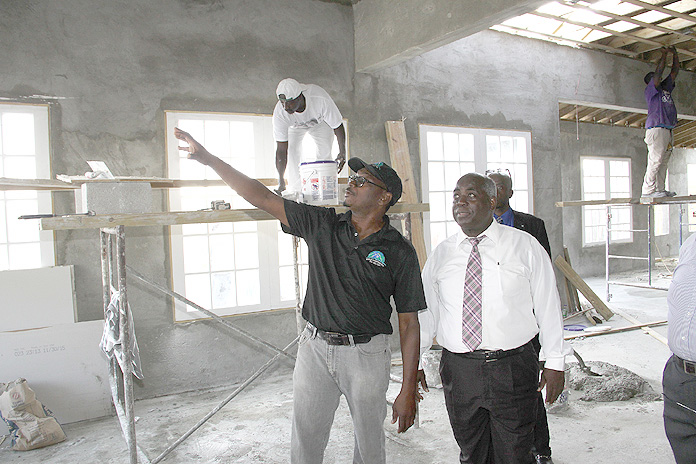 SAN SALVADOR, Bahamas – San Salvador's tourism industry is anticipated to get a major boost with the expansion and upgrade of San Salvador International Airport, the island's main gateway.
During a recent stopover visit, the Hon. Philip Davis Deputy Prime Minister and Minister of Works and Urban Development inspected the $1.5 million construction work being carried out by Kirk Williams of World Construction and Development Company. The airport received extensive damage when Hurricane Joaquin devastated the island some 5 months ago.
The Deputy Prime Minister is satisfied with the steady progress of the work carried out to date. "We decided to do the expansion to accommodate the traffic that is expected through the direct flights from France and elsewhere. I'm pleased to see the kind of workmanship by Mr. Williams and his contractors.
"For many years the airport was not accommodating to our guests. Very often about 300 persons were landing and lining up on the tarmac in the hot sun from a ten-hour flight from Europe. That was uncomfortable. Now as you can see the expansion will accommodate these passengers as they come into a comfortable venue to clear Customs and Immigration," he said.
In addition to an expanded check-in counter, the state-of-the art facility will feature an expanded waiting area and a more user-friendly Immigration and Customs venue.
Mr. Williams said the work is 90 percent complete and his team is "pulling out every stop" to make the airport a "world class" facility that is second to none. He noted other amenities including concession stands, CCTV and security measures of international standards.
Sixty to seventy construction workers are employed at the airport and 15-20 percent of them are residents of San Salvador.