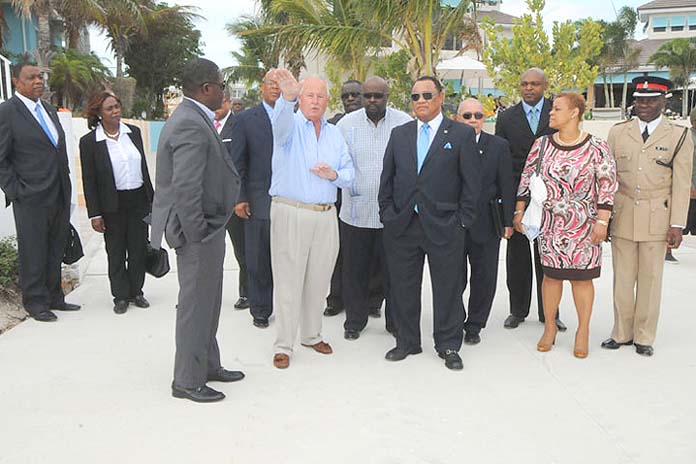 GEORGETOWN, Exuma, The Bahamas — Prime Minister and Minister of Finance the Hon. Perry Christie said Friday that he was delighted to see the progress that has been made at February Point Freestyle Exuma, in such a short period of time, and that it was just a over two years ago that developer John McGarvey spoke about his vision and what he would like to do.
"We are here to witness today a state-of-the-art newly constructed Welcome Centre, with all of its features," said Prime Minister Christie during the Official Ribbon Cutting Ceremony for the Welcome Centre, Restaurant and Spa at the property near Georgetown, Exuma. "We have seen the small boat marina, which is about 80 to 90 per cent completed.Construction has begun on the 20-unit condominium complex; and plans have been completed to begin construction of six penthouses and four estate homes."
Among those present at the ceremony were Cabinet Ministers Hope Strachan, Ken Dorsett and Khaalis Rolle.
Prime Minister Christie said that one of the unique features of February Point is that it is within hailing distance of the community of George Town and this gives the development an added dimension — it is as private as any development could be; but, at the same time it has a real, live dynamic connection to a real bustling and thriving Bahamian community.
"Today, we share in the celebration of February Point's milestone achievement in completing the initial stage of its re-development into this, what I sincerely hope reflects a commitment to a, five-star luxury residential and marina resort,"Prime Minister Christie said.
He added that some persons present would have heard of Mr. McGarvey's accomplishments in commercial and residential development and the construction industry, in general, in Florida.
"But now he is here in Exuma," Prime Minister Christie said.With a group of investors, Mr. McGarvey has "embarked on a vision and a mission for the creation of an ultra luxury resort that will transform the landscape of Georgetown."
Transformation of Georgetown into 'Mini City'
February Point will also contribute significantly to a joint venture Master Plan with Government for the transformation of Georgetown into a "mini city" with a state-of-the-art Government Administrative Complex, a primary and a high school, an Industrial Park, Community Sports and Recreational Centres, a hydroponic botanical farm, residential subdivision, and a commercial retail and entertainment district, he noted.
"The quaint towns of The Exumas are moving along in the direction of my Government's objective to build a prosperous Exuma and a prosperous Bahamas for all Bahamians," Prime Minister Christie said.
He pointed out that the February Point investment, along with other existingforeign investment developments, will create an "extraordinary" amount of opportunity for Bahamians.
"As a result of collaboration with The Exuma Chamber of Commerce, foreign investors and Government, the entrepreneurial spirit of Exumians will flourish through vertical linkages with resort projects," Prime Minister Christie said.
Along with the usual hospitality positions and retail and services businesses, a plethora of professions will be available to Bahamians, he announced.
"Exumians, you should expect to experience a growth in professional services — teachers, architects, engineers, decorators, lawyers, doctors, financial advisors, accountants, surveyors, appraisers and environmentalists — all will be needed to ensure that this high-end product that people of the world would wish to come and enjoy will be, in fact, perpetuated and maintained," Prime Minister Christie said.
He added that small business opportunities will exist in areas such as the marina services, retail sales, farming, ferry transportation, boat tours, fishing excursions, water sports, arts and craft, entertainment, spa and wellness, and "an array of other entrepreneurial opportunities."
"There will also be a demand for scientific and other specialized technical skills whereby qualified Bahamians will be needed to manage and operate power generating solar, wind and gas plants; and waste treatment facilities," he added.
Prime Minister Christie stated that urban planners and project managers will be needed to assist Government in the orderly development of The Exumas.
"Exumians, we are privileged for the confidence that is being placed in your island by people who are coming to invest," he said.
Prime Minister Christie expressed appreciation to the February Point Partners group of investors, led by Mr. McGarvey, for their willingness to invest in the development of Georgetown and their positive engagement within the community.He also extended a thank you to Mr. Burton Rodgers for his important involvement in the project.
"We have already begun to experience a positive impact from the resort project, not only through job creation but through its financial contributions to the National Emergency Management Agency Hurricane Joaquin Relief Efforts, rebuilding of the Straw Market, the Cancer Society of Exuma, the National Family Island Regatta, local sporting clubs and through the training of two resident Exumians in swimming pool construction," he added.
Prime Minister Christie said that he was advised there are plans to donate computer systems to the primary and high schools extending from Moss Town to Little Exuma.
"These types of contributions are examples of the investor's commitments to the destination and to the people of Exuma and serve as a perfect avenue to share my Government's plans for infrastructural improvements on mainland Exuma," he said.
Re-Development of the Exuma International Airport
He added that those present should know that plans are well underway for re-development of the Exuma International Airport and that the Government is presently having discussions with specific groups of foreign investors on a possible public private partnership arrangement for reconstruction and management of the airport at Moss Town.
"In light of the population growth, it is now a matter of urgency for my Government to cause the mini hospital to become operational," he added.
"This is going to be a spectacular addition to the well-being of the people of Exuma and those who come in as residents."
Prime Minister Christie also gave an update on two other recently approved foreign investment projects that will complement the offerings of February Point Resort.
Some two weeks ago, he noted, the Government concluded a Heads of Agreement with the developer of the Children's Bay Cay and Williams Cay project.
"This $250 million eco-friendly ultra luxurious resort and golf club will result in a series of significant benefits for Barraterre and the nearby settlements," Prime Minister Christie said.
"An average number of 400 Bahamians will be employed over the build out 5-year period for construction works which will begin in the second half of this year."
"Resort operations on a recurrent basis will require a minimum of 200 Bahamians," he added.
Prime Minister Christie then spoke on the proposed Stocking Island development, across from Elizabeth Harbour,where the $300 million Stocking Island Club project will be located.
Set for completion in late 2017, the resort will employ approximately 250 Bahamians for construction works over its 3-year build out.
"The same number of Bahamians will be employed for resort operations," Prime Minister Christie said.
He pointed out that it is for the Government to assure Bahamians that it will insist that sustainable development practices are adhered to by foreign investors for the safety of marine, land and air environs.
"More importantly, the interest of Bahamians, our country's most precious natural resource, will be protected by the Government of The Bahamas," he said.
"Moreover, we are reminded that our pristine environment is a deciding factor for foreign investors."
He stated that all can be assured, therefore, that the Government working in partnership with developers such as those at February Point, will pay special attention to environmental matters and will treat the environment with care for protection of their investment, and for future generations of Bahamians.
"Another chapter in the rich history of The Exumas has been written," Prime Minister Christie said. "A new day dawns for this island; an incomparable renaissance is underway."