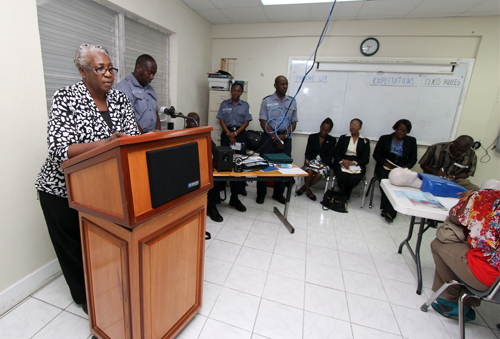 NASSAU, The Bahamas — The Government Printing Department in collaboration with the Royal Bahamas Defence Force held a First Aid workshop for its staff, July 18 and 19 at the Bahamas Technical and Vocational Institute.
Participants from the GPD had two days of intensive First-Aid Training by certified trainers from the Royal Bahamas Defence Force, which included  cardiopulmonary resuscitation.
Undersecretary, Mrs. Anita Beneby, admonished staff members to continue to keep up their safety practices and take in and learn and implement all that they can.
"Your safety is important to the Cabinet Office." This initiative is an indicator that we are concerned with protecting the safety, health and welfare of staff engaged in work at the GPD," said Mrs. Beneby. "We want to improve health and safety in the workplace and this is the primary reason we have asked the Royal Bahamas Defence Force to facilitate this First Aid Training Course.
"First-aid knowledge is one of the most important skills an employee can have, especially when working in a print shop where there are higher health and safety risks than in a traditional office environment. No one goes to work expecting to suffer or die, yet the grim reality is that accidents do occur."
She said that in the event an accident or life-threatening situation occurs,  GPD employees will be able to respond with the mental and emotional confidence of knowing that they can deal with the situation.
"You will learn proper safety measures and how to save a life until paramedics arrive. This training is intended to reduce the panic, chaos and stress that arises in emergency situations when people do not know the right way to respond," she said.
"This training will build team work. Accidents will happen, but isn't it good to know that in the event of an accident or medical emergency your colleague, your co-worker is equipped to assist you to save your life," said Mrs. Beneby.
Royal Bahamas Defence Force Chief Petty Officer, Gary Mackey, said he would recommend that every job place in the country receive this vital training.