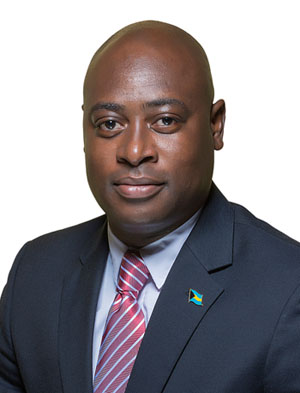 The Free National Movement is pleased to accept the application of Mr. Leonard D.Sands as a member in good standing.
Mr. Sands is a Construction Engineer holding an Associate Degree in Architecture from the College of The Bahamas and a Bachelor's Degree in Construction Engineering Technology from Florida Agricultural and Mechanical University. He presently serves as the Managing Director of Sandbank Construction Company providing construction and management services to the local construction industry. A veteran in the construction industry, Mr.Sands presently serves as Vice President of Public Relations on the board of The Bahamian Contractors Association.
A son of the Bain and Grants Town community Mr. Bain is actively involved with its residents and often partners with the community in carrying out programs and events that supports the community. Because he is passionate in the belief that the future of the Bahamas lies in a skilled and educated population, his firm has adopted Albury Sales Primary School where he supports their efforts by providing assistance to deserving students. Mr. Sands also serves as an adjunct professor in the school of Mathematics,Physics and Technology at The College of The Bahamas.
Mr. Sands is married to Mrs. Christine Kenny-Sands and they worship at Bahamas Harvest Church where they are members.
In presenting his application,Mr. Sands said "I am proud to join this organization because I am convinced that The Free National Movement is the only party that is capable of moving the Bahamian people from promise to possession."
In welcoming Mr. Sands as a member of the FNM,Chairman Michael Pintard expressed his personal delight that youthful professionals such as Mr. Sands have taken up the challenge to assist our party in redirecting the country to a path of prosperity, accountability and good governance.