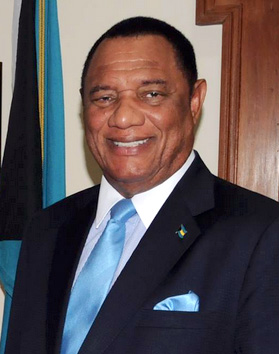 Remarks by Prime Minister Perry Christie:
I am pleased to be here today to share in the celebration of China Construction America's 30 years of operations, and delighted to be able to convey to both the Chairman of the state-owned China Construction and Engineering Corporation, and the President of China Construction America, my Government's sincere appreciation for their commitment to partnership and investment in The Commonwealth of The Bahamas.
Established in 1985, China Construction America (CCA) is a subsidiary of China State Construction and Engineering Corporation Limited (CSCEC) – the world's largest construction and real estate conglomerate, operating in North and South America and the Caribbean.
China Construction has been involved in public infrastructure and private commercial construction in The Bahamas, including the Baha Mar mega resort project, the largest investment of its kind in the Region. Despite the delays which have occurred with its opening, I have been reassured today, as a result of very positive discussions, of the commitment of the chairman of China State Construction Company to his full cooperation to ensure its early completion and opening.
For those present who are not aware, The Bahamas is an archipelagic nation, with just 30 of 700 bejeweled islands inhabited in the chain, spanning over 100,000 miles of the Atlantic Ocean just south-east of Florida and forming the gateway to the Caribbean.
We are a country, small in size and population, with fewer than a half-million Bahamians, and have achieved notable success in tourism, financial services, international residential and business real estate development and international shipping, albeit with tremendous infrastructural, social and economic challenges, given our topography and extensive archipelago. We aim to further grow and diversify these industries through both local and foreign direct investment within a vibrant and conducive business environment, underpinned by stable government and a skilled population.
The Bahamas is also a very young nation, having achieved its independence from Great Britain just forty-two years ago.
My country's close relationship with China, began over a decade ago, and looking back, it has been a progressive and strong relationship based on trust and cooperation between our two nations, with demonstrated mutual respect for our cultural differences and understanding of each other's socio-economic challenges and international obligations within the global context.
Although we differ in size and stature, we share the common objective of all developing nations, of striving in earnest to improve the living conditions and livelihoods of our country's nationals. China has been and continues to be a friend to The Bahamas, and the Caribbean, having stepped up to the plate to assist Caribbean countries on a major scale at a critical time of global economic turmoil.
During and following the extended global economic Recession, the Government of the People's Republic of China and its state-owned agencies have assisted The Bahamas and the Caribbean region with concessionary terms often better than those offered by multilateral agencies.
Furthermore, The Bahamas has been the beneficiary of the generous gift from the Chinese Government of a national stadium which has enhanced the performance of Bahamian athletes and facilitated the hosting of international sports and cultural events. China Construction has also become a major investor in private sector interests in The Bahamas.
The Company recently acquired the British Colonial Hotel, a Hilton branded property and historic landmark hotel development in the centre of the City of Nassau, our country's capital. China Construction has embarked on development of a multi-purpose expansion with hotel, residential rental and retail components called The Pointe, fusing together food, music and entertainment, commercial and residential elements which will enhance the attractiveness of our city centre.
This development, coupled with the construction of a marina and boardwalk on the harbourfront, will launch a transformation and modernization of downtown Nassau, the premier port of call for cruise travel in the region, with its picturesque and historic centre of government and commerce.
And so I am indeed grateful to China Construction for seizing the opportunity along with other notable international investors and personalities to invest in The Bahamas. They are partnering with the Government on initiatives that would help us to achieve our objectives of creating opportunities for growth, improving economic livelihoods for Bahamians and making The Bahamas even more attractive as an ideal place for others from around the world to visit, reside and do business.
There are a myriad of other opportunities that may stimulate China Construction's interest, and that of other investors in The Bahamas. So we look forward to a long and mutually rewarding relationship and join with China Construction's other clients in celebrating this their 30th year of operation in America and wish the Company continued growth and success in its endeavours.
Thank you.