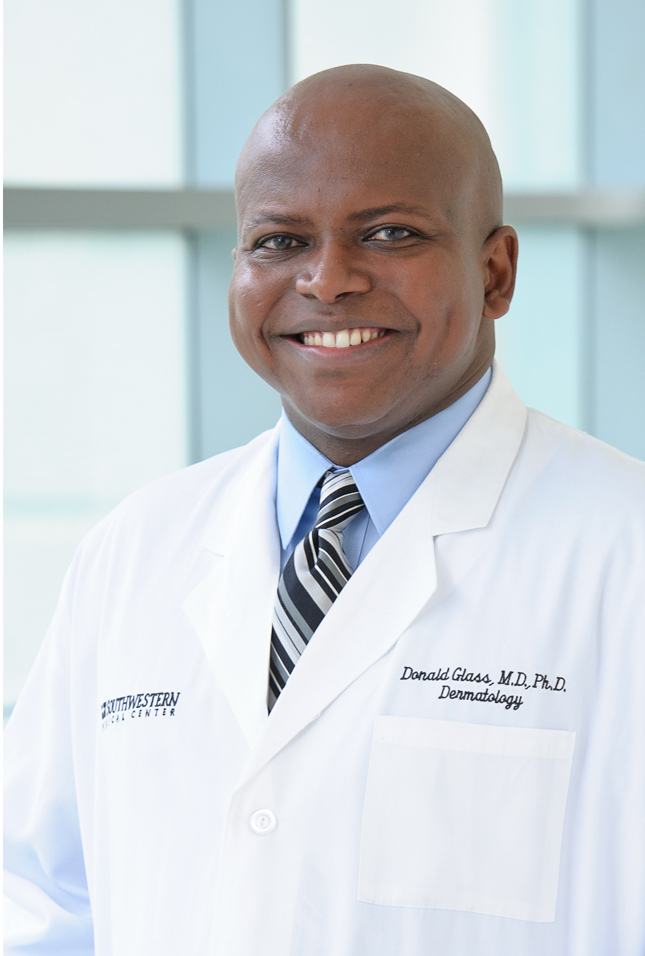 Grand Bahama native, Dr. Donald Glass II, MD / PhD, Assistant Professor of Dermatology at the University of Texas Southwestern Medical Centre, Dallas, Texas, was recently named a Dedman Scholar in Clinical Care at the Medical Centre.
A release appearing in the CENTERTIMES, a publication of the University of Texas Southwestern Medical Centre, as well as in the Dallas Morning News (a major dailynewspaperserving theDallas,Texasarea, reads "The Dedman Family Scholars in Clinical Care (is) an endowed program focused on recruiting talented clinician-scientists early in their careers. The Dedman Foundation made a landmark $12 million gift in 2009 to establish the Dedman Family endowed Program for Scholars in Clinical Care at UT Southwestern. The gift made to Southwestern Medical Foundation, was matched to create a $24 million endowment, which aids in recruiting the more promising early-career physicians to the medical center and launching their careers under the mentorship of senior clinicians and clinical scientists."
Continuing, the release stated, "At UT Southwestern, Dr. Glass studies keloids (exuberant scarring of the skin) and how they occur. He is investigating the genes that predispose people to develop keloids, which can be painful and itchy as well as disfiguring. He has an interest in studying diseases that affect patients of color, and keloids occur disproportionately more often within these groups. Developing keloids can be an inherited trait within families and Dr. Glass is compiling a registry of individuals as well as affected families in order to collect samples and information for further study. There is no current treatment to prevent keloids from occurring or from reforming if they are surgically removed. By better understanding why these scars occur, Dr. Glass said he hopes to devise more effective preventive treatments for keloids."
Dr. Glass was born in Freeport, Grand Bahama, where he attended Mary Star of the Sea Catholic School, graduating as Co-Valedictorian. He attended St. Paul's Methodist College and in the eleventh grade, received a scholarship to attend a summer session at Taylor University in Upland, Indiana. He graduated from St. Paul's Methodist College at the age of 15 yrs as Valedictorian and Deputy Head Boy. He earned 13 GCE's, including one AP and during the graduation ceremony was the recipient of 8 subject awards, including the Principal's Award for the highest GPA.
While in school in Freeport, he enjoyed playing soccer at the YMCA, participated in the Junior Achievement Programme and was Most Distinguished Achiever. A football aficionado, he had the opportunity to train under Coach Mike Bass with the Guinness Titans.
Dr. Glass received a United World Colleges Scholarship to attend Lester B. Pearson College in Victoria, Canada, where he received his International Baccalaureate Degree. He attended the University of Pennsylvania, graduating magna cum laude with a B. Sc. Degree in Chemistry. He matriculated at Baylor College of Medicine at Texas Medical Centre in Houston, Texas, where he received his MD / PhD. His dissertation at Baylor focused on the role of Wnt signaling in bone regulation, and he was selected to represent his class as the Speaker at his Ph.D. graduation ceremony.
Dr. Glass interned at Cambridge Hospital, Harvard Medical School, in Cambridge, Massachusetts and completed his dermatology residency at UT Southwestern.
Dr. Glass has lectured on his research at a number of conferences in the United States and Canada. He has publications in various journals including the Journal of the American Academy of Dermatology, Developmental Cell and the New England Journal of Medicine.
Dr. Glass expressed his appreciation to his parents, Mr. and Mrs. Donald Glass, Sr, and to his teachers at Mary Star and St Paul's and to all those individuals and organizations who have assisted him in his academic career.