Kamilah won her competition round Wednesday night with the highest score – The Bahamas has a rising world star!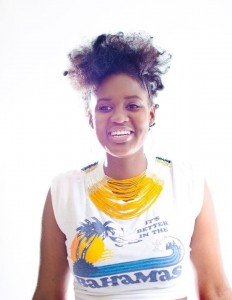 Nassau, Bahamas — The Bahamas has once again another shining star making waves in the world. We can report Kamilah, a young Bahamian located in the US, beat out thousands of competitors singing at the historic APOLLO Theatre Wednesday night.
In a long line of candidates standing outside the streets of the historic theatre, Kamilah made her way to the front of the line and was accepted in.
Kamilah was competing for the amateur night events sponsored by Coca Cola.
Born and raised in Nassau, Bahamas, Kamilah started playing piano at age five. In and out of music lessons for much of her childhood, she ventured beyond her formal music training to feed her curiosity for new and different sounds. Seduced by music and unable to pursue anything else, she continued performing while getting her undergraduate degree at York University in Toronto, taking to local stages, playing guitar and singing at showcases whenever she could.
As she began composing more of her own songs, Kamilah looked to the lyrical and musical techniques of Bob Dylan, Nina Simone, Lauryn Hill, Erykah Badu, Sarah Vaughn, Radiohead and Amy Winehouse for inspiration. While she deeply admires these artists, her sound is the antithesis of imitation. Kamilah has clearly charted her own musical direction, using her expansive vocal range along with the piano and guitar as foundations for a strikingly personal sound. Her songs meld together sounds from the folk, neo-soul, and jazz genres, with lyrics most often derived from her life experience.
An exquisite voice, coupled with a consistent, fearless and tasteful performance style, make Kamilah an emerging artist with a glowing future on the contemporary music scene. Kamilah lives in New York City.
Bahamas Press along with thousands of Bahamian readers of the blog around the world wish her every success!
MAKE US PROUD KAMILAH! YOU CAN DO IT! BP BELIEVES IN YOU!!!!