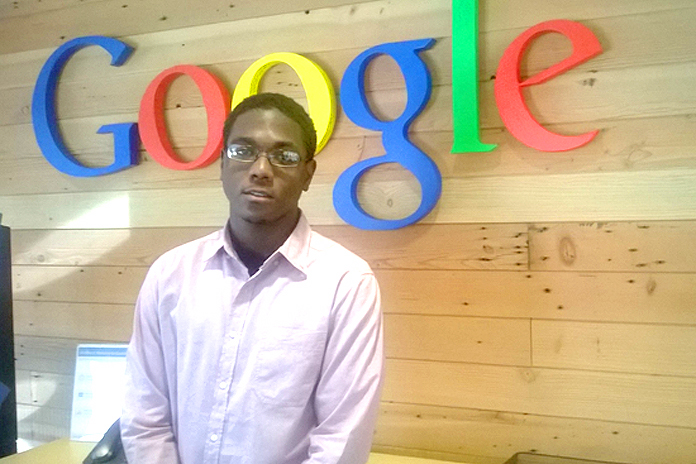 By Hadassah Hall
Nassau, Bahamas — Shaquille Hall is different. This 20-year-old is a focused, analytical young man, who has chosen to be unfamiliar with the street life and familiar with his studies instead.
A member of the 2013 Gentleman's Club class, Shaquille's outstanding performance in the Bahamas General Certificate of Secondary Education (BGCSE) exams and other achievements led to him also becoming a National Merit Scholar in the same year. His hard work and drive to succeed then landed him a full-academic scholarship to the prestigious, historically black Morehouse College in Atlanta.
"College is a huge expense, so I'm grateful to be able to study internationally with the help of scholarships, while alleviating my parents of a large portion of its costs," said the son of Derrick and Grace Hall.
Now into his third year at Morehouse, Shaquille began making waves from his first year. The computer science major, who scored a 3.95 grade point average his first semester, was recommended by professors to apply for a 2014 winter course at tech giant Google. He loved it so much that he applied in 2015 for a paid internship and was then asked to return for summer 2016.
The future computer scientist, whose focus is cyber security, said the opportunity to intern at Google on what is to be the third consecutive year is surreal.
"It was an eye opening experience. One of the best things I learned was, sometimes you just have to fearlessly dive into things. And if you get stuck, just ask for help," said the young man.
The internship has changed Shaquille's way of thinking, particularly after working in such a goal-driven environment.
"First, they hire people who prove they can get the job done. Then, they give you access to resources to get other things done. Nobody is over your shoulders. But because software engineering can be stressful, at Google, there are games and other amenities to help combat this. They are really big on a healthy work-life balance," he said.
Additionally, as a 2013 High Honours graduate of St. Augustine's College (SAC), who graduated among the top five of his class, Shaquille has long been a high achiever. Hence, he fit in well with the Morehouse student mentality.
"I have met some of the smartest, most ambitious people I've ever met in my life. It's satisfying. Everyone is striving; this even applies to my friends outside of Morehouse, including Spelman and Clarke," he stated.
"Morehouse is a jewel within itself. It's very competitive and everyone here thinks he's the best. But in the end we're all still brothers supporting each other," he emphasized.
As a determined young man, Shaquille recognizes the importance of maintaining high grades. He is a proponent of practice and discipline. "Hard work has no schedule. I often work at odd hours of the night between 2 and 5 am when it is quiet. It's a mental will," he noted.
Shaquille does however find time for extra-curricular activities. He is President of the International Student Organization and a member of the Collegiate 100 of Atlanta. He also recently applied to take a one-week computer science course with Black Men Code of Atlanta, a non-profit organization that helps black men in their pursuit of higher education in science, technology, engineering and maths (STEM). To his surprise, he received an email from the organization requesting that he instead help teach the course to college students.
And despite the distractions he inevitably encounters, Shaquille has a single-tunneled vision when it comes to what he wishes to achieve. "I don't like wasting time, so usually, if I don't see it as a way of helping me achieve my goals, I don't entertain it. Just as I used to look up to those before me, there are people looking up to me and respecting what I do. I want them to continue to have hope," said the role model.
Shaquille's advice to young people who are engaging in crime is: "We all face daily obstacles. But there's usually a better solution than the one we first think of. It's just up to us to find it. If you work hard enough and want it, things will change. It may not be quickly or easily, but gradualism is often a much better approach to many problems than radicalism. There are organizations designed to help you. There is a better life. It's never too late. Dream big," said the mature young man.
Questioned as to whether he feels pressured to do exceptionally well because he is on scholarships, Shaquille hastily said, "Honestly, not at all."
He then explained, "I've always striven to be the best at anything I'm passionate about. The expectations I place on myself are far greater than any that can come from somebody else, so the pressure I feel really comes from my hunger to be at the top."