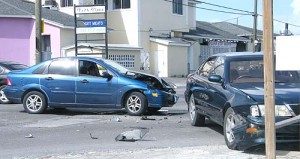 A YOUNG GIRL IS DEAD!
Nassau, Bahamas — A young 18-year-old girl is dead today following a traffic fatality on New Providence. The incident and has left another woman in critical condition. The incident occurred around 4:20am this morning.
Bahamas Press has learnt, a green 1995 green Honda Accord, driven by the 18-year-old female, along with two passengers [a male and female], collided with a red 2007 Ford Explorer driven by a 46-year-old male. Both vehicles were traveling south on Blue Hill Road at the time of the accident.
Reports are that the driver of the Honda received serious injuries, died on impact and was pronounced dead at the scene. Both males were unharmed during the incident.
The mishap records the first traffic fatality for the new year. Police are urging motorist to drive with due care and attention when using the roadways of the country. Police are also urging residents to not drink and drive and if you do, to please use a designated driver.
In 2011 more than 43 persons lost their lives in a traffic mishap.
We report Yinner DECIDE!