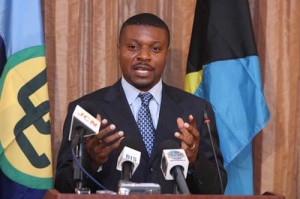 By Maxfield Outten
Out-of-touch Politician are dime a dozen around the world. Our closest, most important neighbor, the United States (evidenced by the last-minute efforts to get a budget passed this week) and our former colonial masters, Britain (politicians who, for years have being claiming that the people have never had it so good) have their fair share.
However, if we have being following the antics and the 'foot-in-the-mouth' calisthenics of the ranking members of the Free National Mess (FNM) and particularly, those of the 'Dishonorable' junior Minister for Marco City, Zhivargo Laing, who has taken the out- of -touch Brigade to new lows, it appears we also have our fair share of 'out-a-touch Politicians here in the Bahamas !! Mr. Laing is so pre-occupied with convincing everyone how intelligent he is that he thinks the people will forget about his incompetency  during this time of economic malaise.
I will outline three specific issues that confronts us at this time, after which I will make a brief remark as to  why the junior Minister of Finance is a worthless, gormless politician  and unfit to represent the good people in any constituency in the Bahamas ever again.
(1)      Mr. Laing, along with the other 'dumb-ass' Ministers in Grand Bahama, are bragging  how the government is laying new pipes so the people in Nassau  will be able to create clean and potable water for their homes, well, that's what you get paid to do, so when Zhivargo Laing went on stage with that 'rusty' pipe telling the Bahamian people that the FNM government is looking out for people, I say bull 'shot' !! What about the hundreds of people in Grand Bahama, who are suffering every single day and are without the basics needs in life.
(2)      The people in Marco City are calling you J.R. as in 'Jerry Roker'  it is my understanding that the only time the residents does see you, is on television in those cheap suits that fits you like skin on a grape.
(3)      The people in Marco City needs an MP who will understand the need to represent them, rather than protecting their jobs and public status. There are talks in Freeport that Zhivargo Laing is the most despised Minister in the Free National Mess, with Charles Maynard only an arm's length away from catching him up !
 After a run of similar commentators on the same subject, I do believe I can rest my case, however, I must raise the question that begs, 'Can the Grand Bahamian's TRUST the Free National Mess with another five years of their life ? I say 'No way Jose'. It is time for Grand Bahama to disentangle themselves from the apathetic treatment and neglect for the past 4 years.