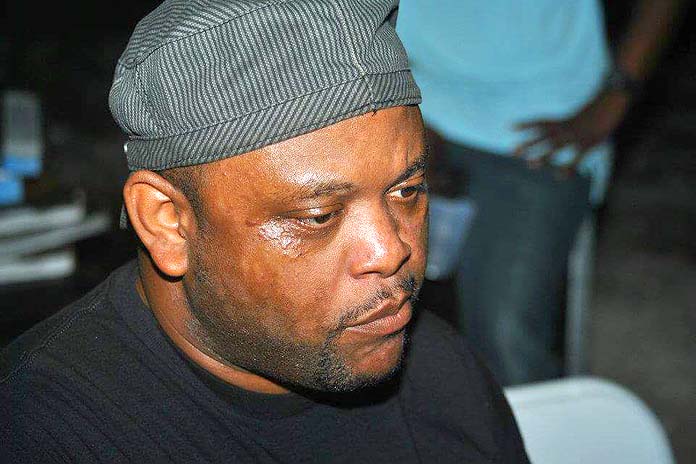 By Alexander James
for Bahamas Press
Nassau, Bahamas – BP is even more annoyed now that since our story on the ZNS News Director and propagandist, PLP advertisers have contacted us swearing to pull their advertisements from ZNS and their support from the party until the Jackass of the airwaves has had his show taken off air.
He is a political hack strategically placed to spread propaganda [AKA JACKASS-NESS]. As if being news director wasn't obscene enough, this ignorant fool who knows nothing about news making or the dissemination of it, abused his authority and assigned himself to a radio talk show.
What's even worse, the media is rising up against this buffoon who does not know his arse from the thing that causes his arm to bend. He is making a mockery of the title ZNS News Director and antagonizing his "peers". He is a nasty person who launches attacks, and those people he attacks are usually women, as he is not man enough to pick on one of his own gender ….. well wait ….. we will come back to that another time.
Last year we would have seen this man savagely attack Candia Dames and Chrissy Love who both have proven themselves in the journalistic circles of this country. He, on the other hand, has never written an SOS message much less a story. How can he call himself a man when he attacked and went down in the mud like a hog wallowing to cuss out these women and call them names.
We know what goes on behind locked office doors. Ya nasty self!!! The news staff of the Broadcasting Corporation are there for reporting news not SEXCAPADES. Dragging the air-bed into the newsroom to lock the door later was caught on camera. Don't let BP have to publish all the suspects who went behind that locked door! DEY HAVE NO DAMN SHAME!
See when you come picking fights with BP you better come armed and dangerous. We know all ya dutty lil secrets and we ain't scared to tell them either. Let us tell you this … SCREWING ON DA JOB BRINGS BABIES ON DA JOB WHICH SOMETIMES CAUSES MISCARRIAGES ON DA JOB. Now we will gladly elaborate if you want us to.
Since the claim is being made that the Prime Minister is related to the News Director, then he [WE BELIEVE] should be the one to personally advise him to stand down and get off the airwaves before he loses more support for his PLP party, AND before, more people pull their advertisements from the Broadcasting Corporation! The PM should also be concerned with the credibility of those professionals in the BCB who are now being regarded suspiciously by the viewers under the direction of this TRI-POLAR suspect.
Because the news director is so unprofessional, he doesn't seem to know the meaning of the old adage, "Play wit puppy and dey lick ya mouth." If ya carrying on with SEXCAPADES with reporters, how are they supposed to do their work or have respect for you? No wonder we ain't seeing some people on da TV no more. WHAT IN DA HELL IS DIS???
BP is watching! We hear the ZNS union has been put on notice about the victimizing ways of the news director. If you don't do what he says, which is usually something that makes no sense, he will do the worse imaginable act to you on the job…just ask the victims.
When will da slackness end?!
We Report! Yinner Decide!