ZNS NEEDS REAL LEADERSHIP – WHAT SAY YOU?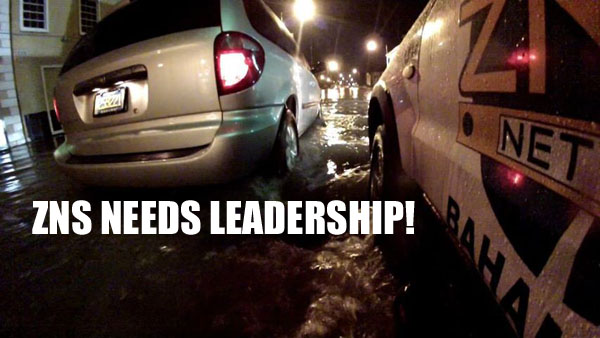 LAST WEEK ZNS LEAD WAS THAT THE RAIN WAS OVER – AS STORMS LASHED NASSAU! STATION IN MELTDOWN

Nassau, Bahamas — Bahamas Press is appalled by the unprofessional and reckless reporting by ZNS TV 13 – the national station.
When we watch ZNS these days we wonder what in the hell is happening to the station. The reports are the pits, the news horrible, old, stale and filled with improper facts.
This week was a classic: the news was as old as Methuselah and if you follow it – some would suggest is as old as the Victorian years.
One would gather by now that ZNS and all its HD would have moved up with the times – BREAKING NEWS up-to-the-minute and show what is happening in the country.
What is evident here is that reporters are not being managed and the place is not being managed.
Over the weekend a nasty rumour out of the FNM online came – rather than report the facts, ZNS announced "BREAKING NEWS" and then went on to repeat the vicious lie spun by the FNMs.
How Unprofessional!
ZNS operatives must be working with dem, and the PLPs in the room just allowed the LIE to echo on the national station – How unethical!
All ZNS and the Ministry of National Security had to do is update the public on the fact that Dr. Nottage left Cleveland Hospital smiling broadly with his wife Portia at his side and confirm that he was reporting back to work and in the House of Assembly. BUT YA KNOW – THEY JUST HAD TO KEEP THE LIE GOING ON THEIR OWN MINISTER. WHAT A CHEAP REPORT!
In other reports, all this week, from Monday to Saturday, rain topped the forecast as if this was the first time the Bahamas had experienced thunderstorms.
And while the weather came, NEMA and social services were covered in heavy repeat and repeat broadcasts, night after night, for two solid weeks – FNMs at the failing station with all the PLPs in place – carried little independent analysis on Prime Minister Christie's Budget Communication.
What in the hell is dis?
Bahamas Press wonders why ZNS doesn't move to a one-day of the weeknight report cause from the looks of things everyone is on vacation and or is falling down bad on the job!
ZNS needs LEADERSHIP!
We report yinner decide!