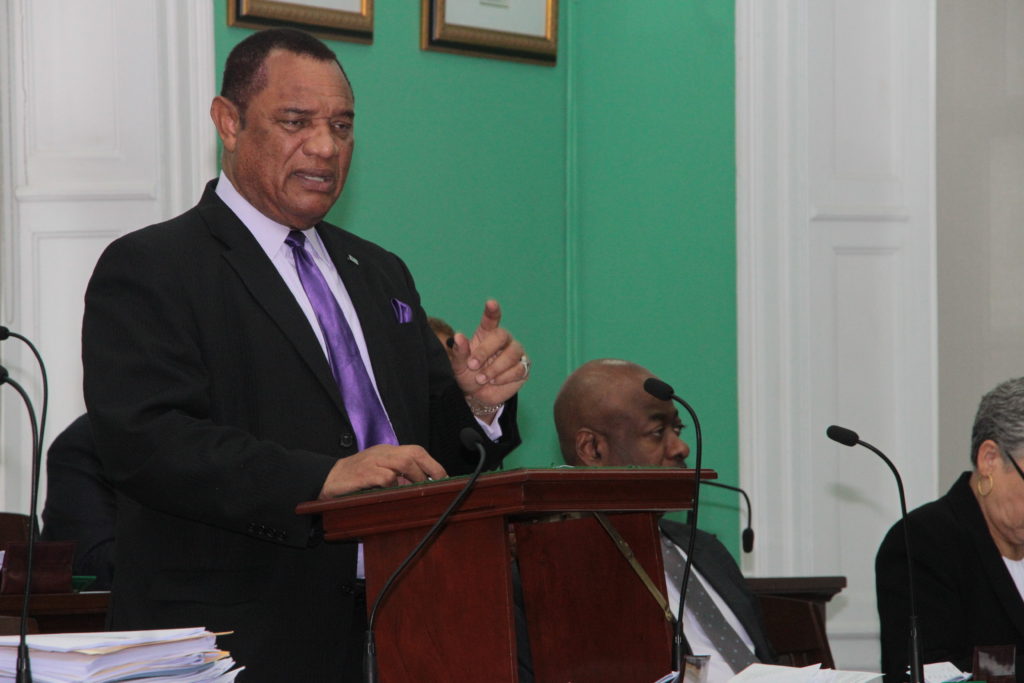 By Eric Rose
Bahamas Information Services
NASSAU, The Bahamas — Prime Minister and Minister of Finance the Rt. Hon. Perry Christie, on October 5, 2016, told the House of Assembly that since the prior day's afternoon, the effects of Matthew, with maximum sustained winds of 135mph, were being felt in the Southeastern islands and will affect all islands in The Bahamas.
"This major storm, described by meteorologists as a category three or category four hurricane, is on course to impact the entire Bahamas, with potentially serious, and, in places, extremely dangerous consequences for our people and our country," Prime Minister Christie said.
"Hurricane Matthew has the potential to be a catastrophic storm," he stated. "I therefore urge all residents of The Bahamas to take all necessary precautions and to heed the directions of the authorities. Most residents of New Providence have not experienced a hurricane of this magnitude in recent years and I urge that you take all necessary precautions as quickly as possible."
Prime Minister Christie apprised The House of the preparations that were in hand, and the country's state of readiness; the nature and scale of the specific threat posed by Hurricane Matthew; and the plans that were in place to deal with the aftermath.
Prime Minister Christie pointed out that on Saturday, October 1st, 2016, in its first Alert, the Bahamas Department of Meteorology indicated that a "Hurricane Alert" was in effect for the entire Bahamas and the Turks & Caicos Islands.
"By yesterday, Tuesday, October 4th, 2016, Alert # 22 issued by the Met Department advised that Hurricane Warnings were in effect for the entire Bahamas," he said. "This signified that hurricane conditions were due to be experienced within 36 hours.
"As a result of these Alerts, the Emergency Operations Centre at NEMA was partially activated on Monday October 3, 2016 at 6:00 p.m. and fully activated on Tuesday, October 4, 2016 at 10:00 a.m. Representatives from all the relevant agencies are now positioned at NEMA to provide logistical support.
"I am advised that detailed preparations are now well in place," he added.
Prime Christie noted that the maintenance of communications during a disaster is essential, and a strong network of reporting has already been established.
"NEMA has also provided satellite telephones to Family Island Administrators as an additional line of communication, although some weather conditions impose constraints on their use," he said.
Prime Minister Christie said that The Bahamas' Security Services have critical roles to play in the management of the disaster and relief effort.
He pointed out that on Monday, October 3rd, The Royal Bahamas Defence Force deployed Advanced Teams to nine Family Islands to provide support to the local disaster preparedness committees. Impact Teams, he noted, had been assembled and are on standby for deployment as necessary in the aftermath of the hurricane.
The customary actions have also been taken to secure the vessels and aircraft of the Force, and to ensure that they are protected and available for deployment in as required, he added.
"Last year, the Defence Force acquired a modern, state-of -the art, Mobile Base," Prime Minister Christie said. "It was used in Crooked Island in the aftermath of Hurricane Joaquin, and is also on stand-by for deployment after the passage of Hurricane Matthew."
The Command Centre of the Royal Bahamas Police Force was also activated on Monday, Prime Minister Christie stated.
"The Force plays a major role in ensuring that communication lines with the Family Islands remain open," he said. "Therefore satellite telephones have also been made available to those police stations."
"The Commissioner of Police has confirmed that fire trucks will be placed in strategic locations in New Providence and will be available if necessary to assist with emergency evacuations," Prime Minister Christie added. "The police will also continue ensure that law and order are maintained during and after the hurricane."
While speaking of the detailed plans national agencies have to support the "good health and well-being of Bahamians".
The Department of Public Health of the Ministry of Health had communicated with its Health Administrators, and those in charge of its clinics in the Family Islands, Prime Minister Christie said. They had all confirmed that they were prepared for the hurricane, he added.
"There are adequate supplies of medications, nurses have been assigned to shelters in the Family Islands, and Response Teams comprised of nurses, medical doctors, psychiatrists and psychologists are on standby for deployment to the islands in the aftermath, as necessary," Prime Minister Christie said.
He noted that on New Providence, four emergency treatment centres will open in the aftermath of Hurricane Matthew, as needed, on a twenty-four hour basis — the Elizabeth Estates Clinic, the Flamingo Gardens Clinic, the Baillou Hill Road Clinic and the Gambier Clinic.
"In order to ensure the safety of certain groups, a limited evacuation effort was organised over the weekend," Prime Minister Christie said. "On Saturday, October 1st, the Government of The Bahamas evacuated Bahamian students from The University of the West Indies in Kingston, Jamaica.
"Additionally, in response to requests made by some Family Island Administrators, NEMA facilitated the evacuation of some 65 people: 37 from Acklins, 24 from Crooked Island, and 4 from Long Island. Several other people had also expressed a wish to be evacuated from those islands, but subsequently changed their minds."
Apart from that evacuation effort, he said, 15 senior citizens voluntarily left Mayaguana on the regular Bahamasair flight on Monday and five other people left Crooked Island on a private aircraft.
"You will note that the islands from which people were requesting evacuation were the ones which were badly affected by Hurricane Joaquin," he said.
Prime Minister Christie said that hurricane shelters are an important resource in the nation's planning and preparation, as they provide a known place of safety during that type of natural disaster. He pointed out that the shelters on the islands in the Southern Bahamas began opening on the morning of Tuesday, October 4, 2016.
"By 1:00 pm on Tuesday, the number of people being housed in shelters was as follows: 110 people in Acklins; 7 people in Inagua; and 10 people in Long Island," he said.
"We have made, and will continue to make, every effort to minimise any loss of essential services," he added. "However, in the face of such a powerful hurricane, some services will have to be suspended in order to protect them from the elements, and to ensure public safety."
Prime Minister Christie announced that the Lynden Pindling International Airport was officially shut down at 11:00 a.m. that day and that specific updates will be released separately, on the plans made by our utility companies: Bahamas Power & Light, The Water & Sewerage Corporation, and BTC.
He said that from the briefings which had been provided to the Cabinet by the various agencies and experts as to their plans and states of preparedness, they were satisfied that the professionals have brought to bear the full extent of their expertise and experience, and the Government was grateful for their efforts.
"That said, we must remain alive to the fact that Hurricane Matthew is a large, violent and dangerous weather system, which has the potential to cause catastrophic damage to parts of our country," he added.
"As I have said in both of the statements, which I made to the public on Monday and Tuesday, Hurrricane Matthew is characterised in part by the huge amount of rainfall associated with it.
Prime Minister Christie said that, with surges of approximately two to four feet, Hurricane Matthew had caused severe flooding in Jamaica.
Although details were still coming through, it was clear that Hurricane Matthew had also left a trail of destruction in the affected parts of Haiti and Cuba, he added.
"The forecast for the whole Bahamas is sobering: extensive to severe flooding can be expected as Matthew is predicted to produce heavy rainfall, dangerous storm surges, and large and destructive waves that could raise water levels by as much as 10 to 15 feet above normal tide level throughout the country," Prime Minister Christie said.
As the storm progresses up the archipelago, he stated, the southern coastlines of each island will be particularly vulnerable, and all citizens and residents in those areas were urged to move inland or to higher ground.
"The island of New Providence, where 85% of our population lives, will take a direct hit from the south," he pointed out.
He noted that that had not happened in "living memory", and the models generated by the experts indicate that this poses significant risks to the affected populations, and to property in those areas.
"The Government will continue to impress upon everyone, the need to take these warnings seriously, and to make sufficient preparations well in advance of the arrival of the hurricane," Prime Minister Christie urged. "These preparations may well involve people leaving their homes, and seeking shelter with family, friends or in one of the official shelters."
As always, he stated, the Government wished to remind everyone that while the hurricane is passing over The Bahamas, all should remain in a place of safety, and only venture out once the all-clear has been given.
The agencies and experienced professionals would guide the nation through whatever recovery and relief programmes that are required, Prime Minister Christie said. He also pledged the "full, ongoing support" of The Government.
"Over the coming hours, days, weeks and months, if the forecasts are correct, Hurricane Matthew may well become a defining event in our country's history," Prime Minister Christie said. "It is rare that the whole country will have been impacted so directly by a storm of such magnitude and severity.
"But in our hour of adversity, I know that we will come together, as we have always done, united in our families, our neighbourhoods, our communities and around the country, to overcome whatever challenges may come.
"As the Psalmist reminds us: 'God is our refuge and strength, a very present help in trouble'."
Prime Minister Christie said that he was sure that he spoke for the whole House when he said that they pray for the safety and security of all of the nation's people, and look to brighter days in the future.
"We will rise up from this," Prime Minister Christie stated. "We have done so in the past, and we will do so again."
"Please take great good care, and God Bless The Commonwealth of The Bahamas."
Caption: Prime Minister the Rt. Hon. Perry Christie. (BIS Photo/Eric Rose)