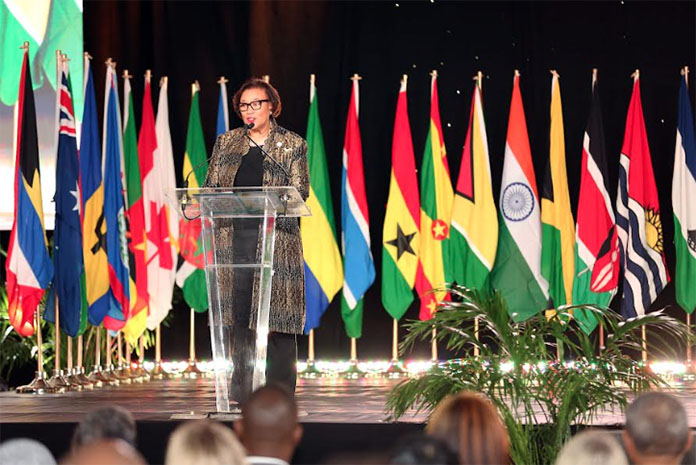 NASSAU, The Bahamas — Secretary-General to the Commonwealth of Nations the Rt. Hon. Patricia Scotland, KC, said the 13th Commonwealth Women's Affairs Ministers Meeting is an opportunity to write another chapter in the rich Commonwealth story of shared commitment, and common action.
During the opening of the meeting hosted by the Bahamas at the Atlantis Resort on Monday, August 21, 2023, the Secretary-General explained that the meeting is coming at the most vital time.
"Our world faces serious challenges: The long political, social and economic shadow of COVID-19. Crippling debt, rising inflation and high interest rates. Spiralling costs for food and energy. The tremors and torment of instability and conflict. And the increasingly harsh and dangerous impacts of climate change."
She added, "I know some islands including Grand Bahama still face terrors caused by Hurricane Dorian. Each of these challenges can be characterized as a grave and serious crisis. But they interconnect, entwine and worsen one another."
The Secretary-General said the agenda for this vital WAMM will allow delegates to examine the immediate challenges threatening the safety, equality, empowerment and economic advancement of women across the Commonwealth.
She said, "And beyond the challenges of today, it will enable to us pool our collective experience and ingenuity to identify how we can put women and girls at the heart of a better tomorrow, by seizing the opportunities before us – especially in digitalization, innovation and the technological revolution.
The Secretary-General said since she became Secretary-General, gender equality has been mainstreamed across all of the Commonwealth's work.
"We have forged new partnerships, and the Commonwealth's programme of support and assistance is more comprehensive than it has ever been.
"So, I promise you that, as we dig deep to rise to our challenges and seize our opportunities, your collective determination will be matched by the extensive support the Secretariat will make available to you."
She noted that the resolutions and conclusions made at the meeting will shape the strategic priorities of the Commonwealth Secretariat, and they will shape the global agenda – especially for the Heads of Government when they meet at CHOGM in Samoa next year.
The Secretary-General said that the timeless Commonwealth spirit of unity, purpose and ambition has always served well. "It will serve us well again this week.
"So, let us resolve now that the chapter we will write together here in The Bahamas will lead us to a safer, more peaceful, more sustainable, more equal and more prosperous future for all the women and girls – and indeed, all 2.5 billion people – of our Commonwealth family.
She added, "As we know, The Bahamas has done it before. If, in The Bahamas, we, the Commonwealth, came together and were able to free Nelson Mandela. Isn't it time now we free the women of the world?" (BIS Photo/Patrick Hanna)