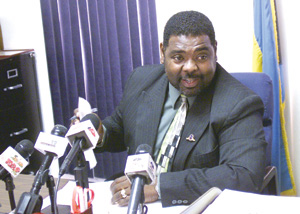 <<< John Pinder, President of the Bahamas Public Service Union.
Nassau, Bahamas — Margo Pinder the now estranged wife of John Pinder is jumping for joy tonight as a Bahamian Judge has awarded her legal separation from the Bahamas Public Service Union President.
The shocking news was handed down last week, has yet to hit the pages of the press. Documents forwarded to BP confirms, Margo Pinder shall remain in the couple's marital home and joint custody will be shared for the couple's two sons.
BP has learned a bedroom brawl in late April between the two resulted in bruises about the body of Pinder's wife as she hobbled to the emergency room of the PMH for medical attention. A medical report presented to the court disclosed Margo had suffered a black eye following the vicious attack by her husband. Pinder was detain by officers of the CDU after the ordeal, however as most of you know, MONEY BUY LAND!
Bahamas Press cries 'DUTTY SHAME' on Pinder who seeks the nomination in the Fox Hill constituency for the Free National Movement. He is also known to be a staunch supporter of Hubert Ingraham and is said to have gone soft when it comes to dealing with matters on behalf of public servants against the government.
Bahamas Press remind our readers that only few people remember the poor mental state of Pinder back in the day when his alleged foiled attempt to end his life failed. Pinder fired a bullet into his jaw in an alleged attempt to kill himself, however, the bullet exited. The near fatal experience has not changed the man who has taken out his problems on his family.
Today John Pinder is witnessing the most gruesome slaughter exercise of government workers and has yet to speak on the issues. He like FNM Parliamentarians Anthony 'Tinny' Musgrove and Freddy McAlpine and others carry a wicked record of beating women! Like in his personal life, Pinder is witnessing the suicide of government workers but refuses to help stop it. He is a wounded man and in much need of help.
A family member close to Pinder said, "He is not taking the recent news of his separation well."