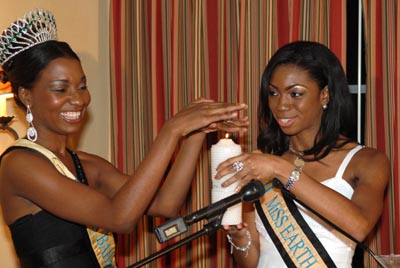 Nassau, Bahamas — In a sacred and private reception, attended by committee members and special invite guest of the Miss Bahamas Beauty Organization, the organizations outgoing Queens adorned in all white, symbolic of their achievement, officially passed on the mantels of their duties to the newly elected 2010 queens.
Vowing to never forget the ideals of the organization, Miss Earth Bahamas – Krystle Brown and Miss Teen Bahamas- Shaquel Demeritte challenged their successors to keep the flames of the organization burning bright and to always treasure the unique bond of sisterhood they have entered into. Both queens were hailed during the ceremony as beauty queens of highest honor by organization's president Ms. Gaynell Rolle who stated, "Many queens are sashed the night of crowning but never truly complete their reign.
"However, you are among the best and brightest, having crowned your successors, pass on the mantel of beauty with a purpose and given an honest account of your reign and achievements made on your desired platform while fulfilling your duties. You have been tested and tried while desiring only to be beauty ambassadors with a purpose.
"Amidst great odds, you rose and defeated those with a determination to destroy our mission and mandate.  Consequently, we are please to induct you into the hall of fame for Bahamian queens of highest honor".
The outgoing queens where presented with their final gifts by the organization. Miss Brown received a cash prize, 24 carat globe symbolic of the title she holds- Miss Earth Bahamas and a Cruise. Ms. Demeritte received a scholarship to the College of the Bahamas with effective from July 2010.
Before signing their official contracts, the 2010 newly elected queens accepted the challenge given to them by the outgoing queens and made pledges to serve with distinction. The significant Black and White Event of the Miss Bahamas Beauty Organization was hosted at Lucianos one of the Bahamas finest upscale dining restaurant.
The incoming queens where adorned in black symbolizing their training and grooming period as beauty ambassadors. The six 2010 queens are Miss Earth Bahamas – Aquelle Plakaris, Miss International Bahamas- Carlrita Robinson, Miss Progress Bahamas – Lakindes Brown, Miss Teen Bahamas – Myah Walker, Miss Teen Universal Bahamas – Alexcia Sargeant and Miss Teen international Bahamas  – Tazhamoye Cummings .