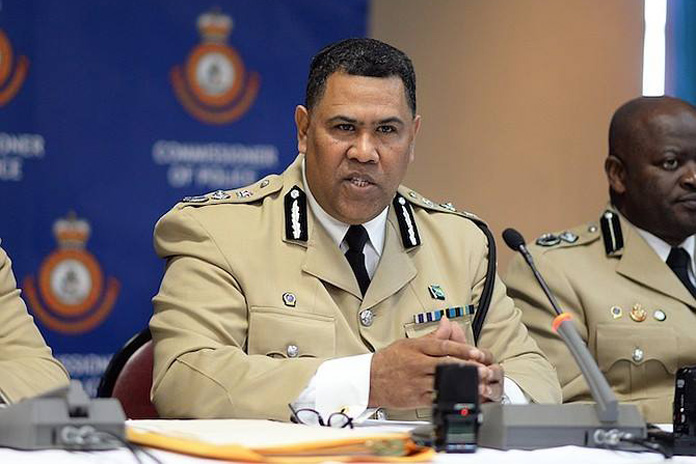 Nassau, Bahamas – Candidly admitting that 2015 was a challenging year on crime for The Bahamas, Police Commissioner Ellison Greenslade presented mixed results in the fight against crime.
He told the media that in the 30 categories of serious crimes, increases were recorded in murder (19%), attempted rape (33%), rape (16%), unlawful sexual intercourse and armed robbery. All other categories except manslaughter and attempted murder decreased by double digits. Overall, crime was down by five percent reported the Commissioner.
Providing some insight into the daunting task of beating back the scourge of crime and its fear, Commissioner Greenslade shared police intelligence about the mindset, the psychology and overall profile of the typical career criminal.
"These are relatively young men; they are adults but they are relatively young people. They are not employed; they are not seeking any employment and they have committed themselves to a life of crime.
"Their position is they are going to sell illegal drugs in any form. They will acquire illegal firearms and ammunition and they are going to stake their claim in New Providence and they will demonstrate to us as a people how bad they are."
The Police Commissioner further revealed that there is clearly too much complicity, aiding, abetting and comfort given to those hardened criminals by families and friends.
"But the average person that we see lives in a home with family members and friends, relatives and associates and when they commit these dastardly deeds, they return to their families, friends and their associates and they talk about it. If we continue to cloak that, we are going to continue to reap the whirlwind" said Commissioner Greenslade.
The Bahamas recorded 146 murders in 2015.
Drones and helicopters to be added to the crime fight
Police Commissioner Ellison Greenslade also revealed on Wednesday that as a complement to the force's existing crime fighting strategies and priorities, he intends in 2016 to "acquire the services of a helicopter for rapid responses to serious crimes, fleeing felons and for patrols in hotspots."
Additional plans include the use of unmanned aerial vehicles (UAV) or drones and the construction of a new and modern forensic laboratory with the capacity for DNA fingerprinting.

As for the policing priorities pursued in previous years, the Commissioner said that saturation patrols in criminal hotspots will be intensified; Closed Circuit Television (CCTV) usage will be extended; community policing with Urban Renewal will continue; the anti-gang unit and school policing program will be expanded and the strategy of intelligence-led policing operations will be deployed as a pre-emptive strike against criminality.