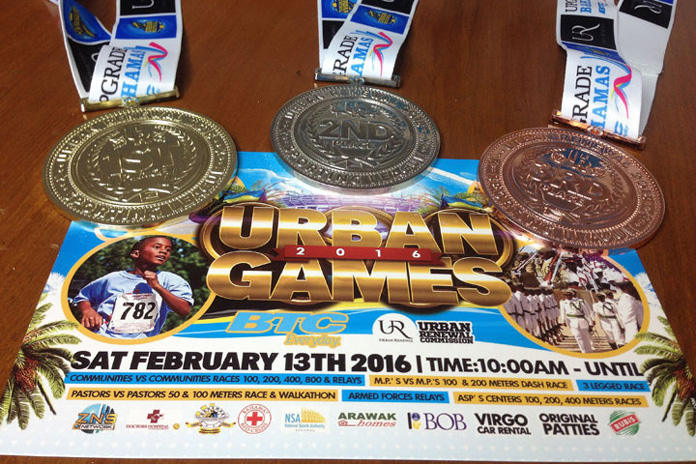 Nassau, New Providence – The Bahamas Telecommunications Company Limited (BTC) has announced that it will be the title sponsor for the first ever one day "Urban Love Games." The event which will be held on Saturday, February 13th is being organized by the Urban Renewal Commission and will be the first of its kind, joining more than 2,000 persons from nine Urban Renewal Centers in New Providence for a day filled with sports and entertainment.
Wilton Russell, Director of Sports for the Urban Renewal Commission thanked BTC for its support and outlined the day's activities. "We are thankful for BTC's generosity, their support has made this effort possible. Even though we are calling the "Urban Love Games" a track meet, the competitors are not trained athletes, but ordinary men and women from the community. The event
is intended to be a community bonding initiative. Children and adults from nine inner city communities will compete for medals. Games include the 100 meter dash, tug-of –war, a three legged race, egg and spoon race and a sack race. Our adult games will begin at 3:00pm and will include the 100, 200, 400, the 4×100 and the 4×400 races. Junkanoo groups form these communities are also expected to participate."
BTC's CEO, Leon Williams said "We at BTC remain deeply rooted in our commitment to community, programs like Urban Renewal are tangible ways that we can help to touch the core of the issues we are facing as a country. We are happy to support "The Urban Games" and we wish the group well."
BTC has been a supporter of Urban Renewal for several years. The company has adopted the "Mother Pratt Park" in the Englerston community which is branded and maintained by BTC. Additionally, BTC has supported the basketball groups, karate team, and has invested over $20,000 in equipment for the Urban Renewal Band. BTC's iVolunteer Team has also walked the grove community and provided a healthy breakfast for many residents.
The company is a trailblazer in its community efforts. BTC continues to demonstrate its passion for youth and sports in the country. In 2015 alone, the company was the title sponsor to several major sports initiatives including High School Nationals, CARIFTA Swim and Track & Field Teams and the IAAF/BTC World Relays. BTC currently endorses 2016 Olympic hopefuls Ramon Miller, Shaunae Miller, Demetrius Pinder and Arianna Vanderpool-Wallace.
The "Urban Love Games" will take place at the former Thomas A. Robinson Stadium on Saturday, February 13th. Events are scheduled to begin at 8:00am. The nine Urban Renewal Centers that will participate include, Bain and Grants Town, Englerston, Centerville, Kemp Road, Fort Charlotte, Nassau Village, Pinewood Gardens and Fox Hill. The Urban Renewal Band and the Junkanoo groups from nine areas will provide entertainment.