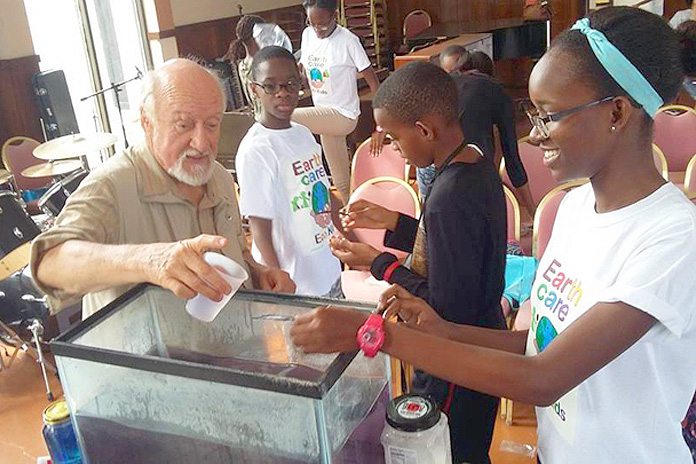 On February 5th, 2016, EARTHCARE brought Martin Keeley, children's environmental book author to Grand Bahama Island to share his work with schools and the EARTHCARE Eco Kids. Martin met with the EARTHCARE Eco Kids first. The students were engaged at the Kevin Tomlinson Academy, learning about Science and how it relates to Marvellous Mangroves. Following the exciting experiments, after lunch, the EARTHCARE Eco Kids headed to Lucayan National Park where they got to see firsthand, healthy mangrove forests and all of the associated wildlife. The students learned about the many benefits of Mangroves such as being the nursery for many of our Fisheries products, protection against storm surge and storms, land builders, among many others. Martin continued engaging the students in learning exercises and introduced them to the various types of mangroves on Grand Bahama Island.
Gail Woon, Founder of EARTHCARE and a Director of Save The Bays was elated to be able to bring Martin Keeley from Cayman Brac in the Cayman Islands to teach the EARTHCARE Eco Kids all about Marvellous Mangroves. Martin writes mangrove education curricula for schools around the world.
According to Woon, "This has been a whirlwind 5 days. Martin landed in Freeport in the evening and first thing Saturday morning went directly to the Kevin Tomlinson Academy where he and Gail Woon began the EARTHCARE Eco Kids presentation. EARTHCARE Eco Kids toured the caves at Lucayan National Park then crossed the street to see the lush mangrove forest from the boardwalk. After more learning activities, the students who had parental permission got to swim. It was a full day.
Martin was able to visit Sunland Baptist Academy, where he gave the Marvellous Mangroves presentation to the Grade 12, Geography students of Mr. Wright. That evening, Martin gave an exhilarating talk on Mangrove Education and told a rapt audience about how he got into creating the Marvellous Mangrove curricula 8 years ago in a series of videos, and showed the audience the state of the world's mangroves in a colourful slide show.
Finally, it was on to BMES (Bishop Michael Eldon School) where Martin taught the Grade 4 students about Science concepts and illustrated with fun experiments the differences physically between fresh and salt water and of course, about Marvellous Mangroves. Martin added, "This is my favourite age. These kids are very engaged and a delight to teach."
The EARTHCARE Eco Kids truly enjoyed spending the entire day with Martin Keeley of the Mangrove Action Project. EARTHCARE would like to thank our sponsors, American Airlines, Kevin Tomlinson Academy, Island Seas Resort, Pizza Hut, Animal World, and the parents/guardians who without their support this programme would not be possible.
For more information about the EARTHCARE Eco Kids programme contact Gail Woon, earthcare.bahamas@yahoo.com or call 727-0797.