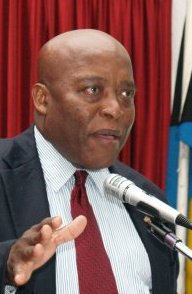 By OSWALD T. BROWN
We now have a good idea why Hubert Ingraham's Free National Movement (FNM) government cancelled national broadcasts of ZNS News-13 out of Grand Bahama earlier this year.
In what was clearly one of the most appalling examples of manipulation of the news, ZNS national news out of New Providence tonight (Thursday, December 29) totally refused to air comments made by Progressive Liberal Party (PLP) candidates in Grand Bahama on the termination of 70 employees of Hutchison Whampoa business operations here in Freeport.
It is not that ZNS news in New Providence did not have access to that information via video tape, because a skillfully edited version of what PLP candidates had to say on the terminations was aired in Grand Bahama on ZNS News-13.
In the national broadcast out of New Providence, however, ZNS carried only the comments made by Minister of State for Finance Zhivargo Laing on the terminations. This manipulation of the news was a total insult to Grand Bahamians.
To be sure, Laing is the last person in this country who should have been asked to comment on a matter related to Grand Bahama, given the fact that he just shamelessly abandoned his constituents in Marco City in Grand Bahama to run for Fort Charlotte in New Providence. That's clearly an indication of his total lack of respect for the residents of Marco City, whom he has represented for the past four-plus years.
What's more, the local news on ZNS indicated that directives must have been received from the powers that be to suppress the comments made by PLP candidates on the terminations. Following Laing's extensive comments on the local news in Grand Bahama, ZNS-13 conducted an extensive interview with Lionel Morley, who represents a very small union here in Grand Bahama, before airing brief comments by PLP candidates Dr. Michael Darville, Gregory Moss and Julian Bedell Russell, totally disregarding an official statement made by Dr. Darville, PLP candidate of Pineridge, on behalf of the PLP.
This clearly was a deliberate abuse of power by the FNM government, and unquestionably, the leadership of the PLP should demand that ZNS Chairman Michael Moss provides a public explanation for using the "people's" news media in such a blatantly partisan manner.
Under the heading, "Economic environment makes it difficult for businesses to meet responsibilities to their employees," here is the PLP's official statement read by Dr. Darville at a press conference at the Container Port today:
"We are here this afternoon to express our deep concern and absolute shock about the distressing news that some 72 employees of Hutchison Whampoa's business operations here in Grand Bahama have been terminated, adding to this island's already painfully high unemployment rate that is estimated to be well in excess of 20 percent. We are told that the downsizing exercise that has taken place affected workers here at the Container Port as well as at the airport and the harbour company.
"Obviously, given the state of Grand Bahama's depressed economy, Prime Minister Hubert Ingraham will use this as an excuse to ward off criticism of his FNM government's cruel neglect of Grand Bahama over the past four-plus years, which has created an economic environment that makes it difficult for businesses to meet their responsibilities to their employees.
With five elected Members of Parliament and now two Cabinet ministers, where are their voices concerning these pressing issues?
"As a reminder, some of the companies in Grand Bahama that have closed under this FNM government in the last few years include: Fenestration Glass Company, the Home Center, Freeport Concrete, the Yamaha Dealership, the Bowling Alley, Stoned Crab Restaurant, three restaurants operated by Rick Hayward, the Native Hut Restaurant, Papa John Pizza, a McDonald's franchise, and countless small businesses across the island.
"Many other businesses are now forced to operate with reduced staff levels in order to survive these challenging financial times. That's how bad the situation is here in Grand Bahama as a result of the mismanagement of this country's economy by this FNM administration.
"Since then, Mr. Ingraham has chosen to ignore the fact that as a result of technological advances, we live in a shrinking world in which the decisions he makes as Prime Minister are instantly known globally by persons who are interested in doing business in The Bahamas. Therefore, in our view, his ongoing dispute with the leadership of the GBPA, even to the extent of reportedly refusing to meet with them to try and resolve their differences, will continue to do serious damage to Grand Bahama's economy.
"Fortunately, a general election will be held shortly and voters throughout The Bahamas will have the opportunity to send a strong message to Mr. Ingraham that his style of governance is not in the best interest of The Bahamas.
"Here in Grand Bahama, where the unemployment rate has just been drastically increased by 70, that message should be clear and unequivocal: it is time to change the direction in which this country is headed by electing a compassionate and caring PLP government under the leadership of Perry Gladstone Christie."