How involved was the Cabinet of the Bahamas to induce Hanna's testimony?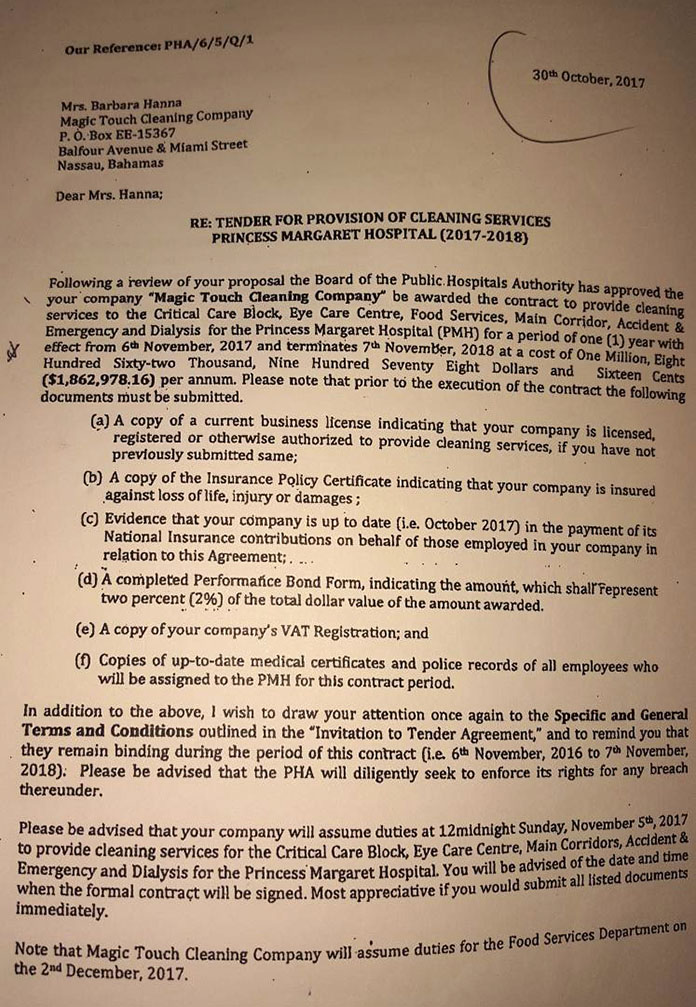 Nassau – Barbara Hanna, who some had suggested was the virtual complainant in the bribery case involving former PHA Chairman Frank Smith, has fallen ill and, well, the case has been adjourned for six weeks.
But as BP gets deeper into our own investigations, we are learning that this single trial could now incriminate a sitting Cabinet Minister and possibly indict the entire Minnis Cabinet!
Records from the Public Hospitals Authority [PHA] have now confirmed to Bahamas Press that Barbara Hanna [The said Virtual Complainant in the Bribery Case] on the 30th October 2017 was issued a letter signed by Hannah Gray [Acting Managing Director PHA]. That letter confirmed an awarding of a contract to Magic Touch Cleaning Company where the virtual complainant is the proprietor to the tune of One Million Eight Hundred and Sixty-Two Thousand Nine Hundred and Seventy-Eight Dollars and Sixteen Cents [$1,862,978.16] to provide cleaning for the Critical Care Block, Eye Care Centre, Food Services, Main Corridor, Accident & Emergency and Dialysis for the Princess Margaret Hospital [PMH] for the period of one year with effect from 6th November, 2017 and ending 7th November, 2018.
The signed letter was copied to: Dr. Anthone Ward, Mrs Mary Walker, Ms Leslie Isaac, Mr. Daniel Knowles, Mr. Allington Hunter and Mr. Mark Demeritte all representatives of the PHA.
Bahamas Press, though, seriously questions the timing of this contract, which appears to have been initiated shortly after the arraignment of the former Chairman Frank Smith.
Additionally, our investigative team can confirm that there has been no record of the said: "Tender for Provisions of Cleaning Services Princess Margaret Hospital [2017-2018]" having never been published in the Official Gazette nor can anyone recall the same contract – which is more than four times Hanna's former contract – to have gone through the Public Tender Process!
1) Did Tender for Provisions of Cleaning Services Princess Margaret Hospital [2017-2018]" ever go to Public Tender?
2) If not why not?
3) Can anyone name the date when this contract was published in the Gazette and if not why?
4) Who told police that Barbara Hanna had a contract with the PHA as she told the courts she was not the person to go to the police in the first place?
We have learned also from our Cabinet source that there has been no formal discussion of the $1.8M to having been brought before Cabinet, and therefore, one must now question WHO GAVE THE DIRECTIVE to have Barbara Hanna awarded this huge multimillion dollar contract?
Was she coached to take this contract in exchange for her participation in the manufactured claims against the former PHA Chairman?
Let's go back to her testimony when she was on the stand:
Hanna claimed, "They kept calling me. I didn't go for weeks."
Knight continued, "Because of that pressure, you're here today giving evidence?"
"Yes," Hanna replied.
"Against your will?", Knight pressed.
"Yes," Hanna answered.
Readers must also remember Hanna's comments on day one of her taking the stand when she asked the Magistrate "Why am I here?" And further noted that she felt that the Prosecution was using her.
We report yinner decide!