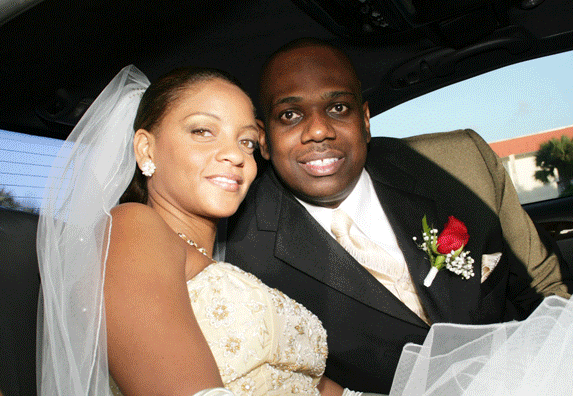 <<< The McAlpines one year ago walking out of the Pro Cathedral Anglican Church on Grand Bahama as husband and wife. One year later a topless woman is in the marital home and refuses to leave. Boy Freddy you dangerous!
Freeport, Grand Bahama — Now as Bahamas Press warned, we said we will prove that Rev. Fredrick McAlpine is a DAMN LIAR! Before we could have click the sent button and publish the story about Fred's abuse on his wife Glennis, the McAlpines were on the steps of the Senate building refuting our claim [Listen to News Break Report]. They said it ain't so! McAlpine said he didn't know if it was an attack coming from the PLP or the FNM. He also went as far as to say, the master must have something good in store for him and he's right! A resignation letter!
Bahamas Press' deep throat on the Royal Bahamas Police Force is fresh from a long needed vacation, and here's what we now know.
According to a police report filed in the control room in early July around 9:45PM, police received a call from a resident at Fortune Bay, Lucaya, Freeport, who made a domestic complaint. The caller identified herself as Glennis Knowles-McAlpine the wife of Senator Fredrick McAlpine. She complained that an intruder has entered her home and had refused to leave. Glennis' complaint added that she had been attacked by her husband and was calling for assistance.
The former Miss Bahamas (1998) and police officer updated police of the situation when they arrived at the home around 10PM. As police took charge of the scene it is reported that a woman, claiming to be a cousin and church member of Fredrick McAlpine Ministries, Nicole Morris, was in the couples bedroom and had refused to leave the home. It is said that Morris, 36, was in the house when Glennis arrived home that evening. She, police were told, was only wearing a G-STRING and walking around topless whilst cooling out in the A/C resident. Meanwhile McAlpine claimed that  he was in the study. YEAH RIGHT!
In response to our initial story published last week, McAlpine claimed on the steps of the Senate building that, he was a loving person who had never been violent towards his wife, and that "he was never caught in a compromising position." Who asked him how he was caught at that press conference? Guilty minds go wondering indeed! But Freddy need not to be caught, the woman was already topless, he simply was not yet undressed. And so there you have it.
Now Bahamas Press doesn't find this behaviour of Fredrick McAlpine strange, persons living on Grand Bahama should ask the former Mrs. McAlpine #1 why she left Freddy everything including the dog and cat and filed for her divorce. Glennis we know is in Nassau now living with relatives recuperating from the ordeal, which happened near a month ago. One Sunday was not anywhere near her husband's Grand Bahama church.
It was just amazing, however, to see that even the WUTLESS DUTTY TOILET PAPER CONFIRMED THAT A "DOMESTIC COMPLAINT" was filed, but they refused to say not a word about it. As we said before, if this was Zonicle, Gibson, Gray or some other PLP, the news would have been different. But because it is an FNM, Ohhhhh they tried to bury it. THEY ARE BIAS AND WUTLESS!
Rev. Fredrick McAlpine is a DAMN LIAR! And as we said, we will prove it!