Hubert Ingraham, Tex Turnquest and Perry Christie ARE ALL GUILTY AND MUST RESIGN!!!
Please CLICK TO HEAR SOME MUSICAL JINGLES YOU CERTAINLY WANT TO REMEBER…
Andros, Bahamas — Nestled nearby the quiet island of Andros amid luscious natural foliage, wildlife and beautiful marine turquoise waters is a beautiful cay called Kamalame. The island has a temptation at first glance. A temptation that pulls you back in time in the Bahamas when lushes palm trees swayed under the natural Bahamian sun. When sugar dusted white sandy beaches implied that only angels had danced on this spot. Oh yes, this is my Andros.
The cay is accessible by private seaplane or via the private ferry, and is hidden from the locals. It's locked away from, ALL DEM WILD BAHAMIAN PEOPLE. It is only for the privileged, the adventurous, the elegant and those who seek private romance. The people of the Bahamas once owned all 96 acres before 1996 – you guessed it, just after Hubert Ingraham came to power.
See it wasn't long after that time a Jamaican national named Brian Hew saw the opportunity to take possession of this "LAND" and turn it into the ever ringing cash register for himself and some other local politicians. Hugh sailed his yacht named, 'LICK GUNSHOT' into Staniard Creek, and docked his huge vessel at the Light House Club. There he would look across the waters and eye that jewel once set in the crown of Bahamian diamonds and ponder of ways in which he will take possession of it. Yes, Hew the former nursery grower and horticulturalist found no more pleasure in being a competitor of Manny Diaz of Florida. He heard that land was being given away in the Bahamas and so he wanted to be a hotel developer. Andros would be the spot for that dream, and Ingraham will opened that door to sell the people's land.
Hew began hanging out with some unsavory characters on the island seeking his way through the agents of 'land sellers' in the country. Many of which had influence at the top of the new political regime. There on the island he would hangout with drug dealers, mafia personalities and realtors. He began to believe what he had heard, that the a new government was in-charge giving it all away. He therefore began moving closer in his plot to acquire the largest piece of land his eyes can visualize, and boy he was successful.
Sources in the Office of the Prime Minister (OPM) told Bahamas Press that Hew through a high-ranking lawyer and political figure in the PLP made request to the Prime Minister and Minister of Finance at the time, Hubert Alexander Ingraham, of his interest into acquiring all 96 acres of Kamalame Cay for a tourism development project. His offer placed to the purchase of the cay was a mere $350,000 [Three hundred and fifty thousands dollars]. Not one acre now, not two but all 96 acres! BP can reveal that serious resistance began in the OPM for the sale of cay, with many asking, "How can the government of the people just sell Bahamian land that cheap?" Young Bahamians cannot buy 1 acre of land for $300,000 and yet Ingraham was giving a foreigner a whole cay, 96 acres, for under half a million dollars.
Through the Royal Bank of Canada the purchase was made. And the Minister of Finance [who also was in-charge of land at the time], agreed for the sale to take place. And so since 1996 Kamalame Cay has hosted and helped plan many special occasions ranging from weddings to executive retreats to day-out corporate picnics to week-long fishing trips. From time to time even senior members of the Royal Bank of Canada's corporate management team could be seen wining, dining and getting it from behind at the resort. As we said, the place is known for its corporate weekends of romantic adventures. But all this is just a tip iceberg of our story.
Now readers must digest that Hew bought an entire cay for $350,000, all 96 acres. Since then he has constructed private villas, which can cost a guest up to $7,350 per night. Rooms can run from $400 per night in the low season to $4,730 per night. Plenty, plenty money indeed, but that's not all.
Hew decided that why not also, since he'd already taken all this land, go into the real estate business and sell some of it back, to others. And guess what? That is just what he did. He created a profit windfall. Hew divided a section of the cay into plots; 0.75-acre plots, and placed them on sale to the world market at $1,000,000 million each. The Bahamas is now a 'Nation for Sale', and here is another Paradise Lost! Some would not believe our evidence presented here and so we point you to some resources.
Bahamas Press can now confirm that ERA Dupuch Real Estate company has listed lots at Kamalame Cay on its listing here in Nassau and has posted properties also available on its global website at: http://www.erabahamas.com/properties/listing.cfm?ID=3728&search=Lookup
Also now available on the website is one of the villas on Kamalame Cay now on sale for $1.8 million.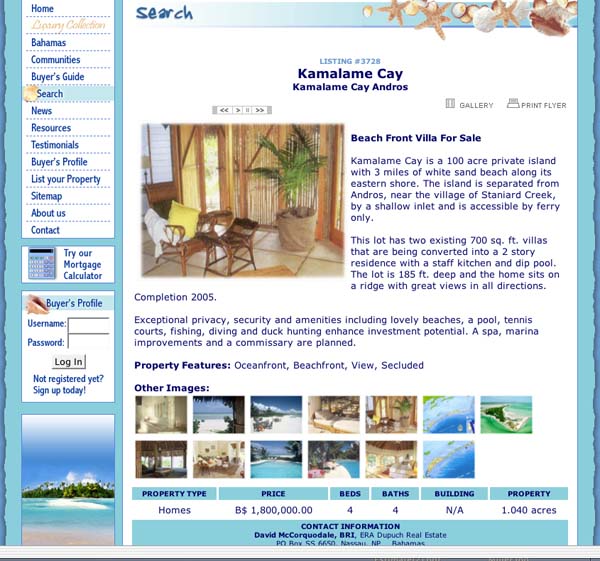 After BP updated officers at the OPM to our shocking revelations, they informed us that this is just a small part of the land scandal. "Since coming into office in 2002, we've also learned that Perry Christie approved more land to the Kamalame developers. This proves that both Hubert Ingraham and Perry Christie have both waged an unholy war on the assets of the Bahamian people," the OPM officer said.
It is amazing indeed to see that a developer who was given land in Andros for a small $350,000 (ALL 96 acres) could now be allowed to flip the land and profit on plots (0.75-acres at a 300% profit). It is clear with this evidence not only Tex Turnquest is involved in flipping Bahamian land, but Hubert Ingraham and Perry Christie are both equally GUILTY OF THINGS SINISTER in the Land Office here in the Bahamas.
Why cannot young Bahamians be given the chance to do what Hew was allowed to do? Why is it so difficult for young Bahamians get a license for a taxi, or land to develop a business on in this country, yet but a foreigner can? How is it Ingraham could have seen the ability of a Hew to develop a cay, but could not see or help the group of Bahamians in Eleuthera to build their resort?
Anyone NOT carrying a Bahamian passport can walk into the Sir Cecil Wallace Whitfield Building, see Hubert Ingraham and walk out with acres of land, something must be wrong with this picture! Something is wrong Bahamas! Our leaders have traded the TRUST of Bahamians! Ingraham has committed TREASON against the citizens of this country and both HE AND CHRISTIE are equally guilty as TEX TURNQUEST when it comes to flipping land for profit!
Bahamas Press cannot say it enough, WE NEED CHANGE!