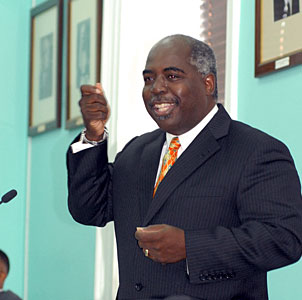 Nassau, Bahamas – The following are remarks by the Deputy Prime Minister, the Hon. Philip Brave Davis at the House of Assembly Crime Bills Debate on November 20th:
Mr. Speaker,
As I rise on behalf of the wonderful people of Cat Island, Rum Cay and San Salvador to support these "Crime Bills" before this House, I beg your permission to allow me to respond to some statements issued by those opposite with respect to Urban Renewal "Small Homes Repair Program".
The Government of the Bahamas announced during the 2013/14 Budget Communication its commitment to the Urban Renewal Program and our intentions to launch this "Small Homes Repair Program" in an attempt to bring relief and improvement to our people's living conditions.
This effort – along with our current upgrade and modernizations to social services – is intended to impact the lives of people who are in urgent need at this most critical time in the economic life of our country.
We on this side Believe In PEOPLE!
And they know they are in safe, secure hands when it comes to the PLP.
In a statement issued by those opposite on Monday 18th November, 2013 – The FNM charged that they have "cause for great concern" with respect to this initiative by the Government – through Urban Renewal.
Well, Mr. Speaker,
Let me assure the House by arresting the concerns by the Opposition – that this is NOT the government of Hubert Alexander Ingraham – but rather is the Administration commanded by the Rt. Honourble Member for Centreville – Perry Gladstone Christie.
And so there is no need for "Concern"!
We on this side have absolutely nothing to hide!
The member for Bamboo Town is a decent son of the soil and is a trusted upcoming New Generation leader in this administration.
We have every confidence that the Small Homes Repair Program shall create employment, while at the same time better the living conditions of our people who had to endure the greatest pain of neglect by those opposite during their five-year term of failure.
You see, Mr. Speaker,
Those who see fit to come and make claims and create conclusions about this government must come with "CLEAN HANDS"!
What is indeed amazing is that those opposite in the FNM who sit in this Parliament today, have yet to give a full account of their management of the Bahamian people's money when they last sat in office.
Was there a CAUSE FOR CONCERN within the FNM when in the last government it issued millions in a Jump Start and Job Readiness Program – which started with 25 million dollars and ended up costing taxpayers double in the last Ingraham Administration?
That scheme operated by those opposite displayed absolutely no "Transparency or Accountability" to the Bahamian people.
And no one on that side was even bold enough to explain how persons who were paid or called up in the program – failed to show up for work!
And there is evidence which shows there were persons who were paid public money to Jump Start a business – but never applied for the scheme.
I wonder if the group opposite have any solace in themselves and exercised CAUSE FOR CONCERN – when they allowed overruns to occur to near $100 million dollars on the road better known at the "NPRIP Program".
And had that program not been brought under control and into order by this Administration, it would have actually cost taxpayers far more than projected.
Mr. Speaker,
Through you, I would also like to ask those opposite if they exercised any Cause For Concern at NIB when one contractor – One Electrical Contractor – got most of the work issued at the Board, and was the contractor of choice on almost every project issued by NIB?
Where was the Cause for Concern then by the FNM?
This same "Electrical Contractor" was also on a list of contractors who collected millions for work that today is still incomplete.
Where was the Cause for Concern then by the FNM? When that Robert Smith and Adolescent Centre at Sandilands was issued at 8.1 million and ended at 12.1 million and was never complete???
WHERE IS THE MONEY?
What did those on that side do with all that money planted in the hands of their crony?
Mr. Speaker,
I want to assure the House and the nation that Urban Renewal 2.0 Small Homes Repair Program is designed with the objective of completing small-scale renovations to houses owned by occupants who have been identified by social service representatives as needing such assistance.
It is also designed to inject new hope and opportunity to small contractors (PLP, FNMs and DNA). It will create short-term employment for our people. And it will better the living conditions of struggling homeowners who cannot help themselves at this time.
I am confident that those charged with managing the works will deliver the best service possible on behalf of the Bahamian people, as we move our nation forward.
Mr. Speaker,
These Crime Bills before us further deliver teeth to the law as we make it priority number one to return a level of safety to our communities.
Crime is trending downwards. And the stats prove this fact.
Our multifaceted approach to dealing with crime, through prevention and detection prosecution and on the end rehabilitation, is now in full view of the public.
We have, through the leadership of the Member for Bains and Grants Town, embarked on a holistic approach in dealing with the problem, engaging stakeholders and the general public through town meetings and public notices.
We have deployed more boots on the ground. There is increased visibility and swift action by patrols; their saturation across the country is now in place.
The church and other civic organizations have deployed and tied in their energies to helping the crime fight – and indeed  – we are seeing results.
And while these efforts have begun, our leadership in the Attorney General's office has also stepped up their overhaul of the judicial and prosecutorial agencies of the Government.
More criminal courts are set to open – and it is expected by early 2014 as many as 10 Justices will be assigned to hear matters to begin the smooth movement of cases in the system.
Mr. Speaker,
We always held the view that the solutions to crime must include all stakeholders in the criminal justice system – that is connecting and locking together the hands of everyone in the process of apprehending, prosecuting, defending, sentencing, and incarcerating persons suspected in criminal matters.
No government can do it alone.
Further to this, we believe crime is not a PLP, FNM or DNA problem. It has no colour, race, creed or gender.
Our efforts here today, therefore, are to further empower our stakeholders to keep Bahamians safe from violent crime.
We know from the records of the last term, Bahamians demanded an arrest of the crime problem, as there were growing feelings of being unsafe in our communities.
And clearly, we all accept the fact that there are no illusions that we can solve this problem overnight. However, the country can be assured that the process to begin delivering a blow to crime has begun.
These bills have brought attention to organized criminal gangs – which we now know is a major contributing factor to our country's unacceptable violent crime rate.
And so, as we address this issue, the bills before us bring the Bahamas in line with the legal codes of other Caribbean nations. And, by extension – joins our hands in the fight against crimes not just inside, but around the region.
Just this morning, I opened the 38th Plenary Meeting of the Caribbean Financial Action Task Force (the CFATF).
The work by this august body is extremely important in the fight against money laundering, terrorist financing and addresses the proliferation of weapons of mass destruction in our region.
We all in the region accept the fact that our financial stability, which we have long enjoyed, hinges on the fact that we address these ills in a major way.
I want to assure the public that we are doing all in our power to arrest this vexing crime situation and in the months and days ahead it is our prayer that every citizen will join this fight.
We cannot do it alone. We need all hands on deck.
Police also needs the support of every citizen to come onboard and report crime and criminal activity wherever it is festering.
The Prime Minister's mandate to his administration is to mount the greatest thrust against crime that this country has ever seen, and I want to assure the House that this is just the beginning.
Mr. Speaker,
Cat Island, Rum Cay and San Salvador support these bills….