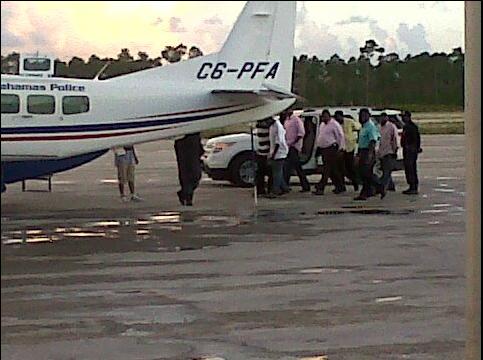 Nassau, Bahamas — FOX HILL is a peaceful place tonight, in fact BP can report the residents of Adderley Street can ride through the community safe and sound as police have taken charge of the area following the death of Dion Emperor Knowles.
BP agents on the ground in Abaco late this afternoon took the photo above as the men accused of the death of Knowles was nabbed on the northern island. Sources close to the investigations told BP the men had just arrived on the island in hopes to escape justice for the murder last night.
Some say the killing was a retaliation for the murder of Limbo in Fox Hill last week; a Haitian national.
Meanwhile officers of Rapid Strike uncovered a handgun along with a quantity of ammunition in the Fox Hill area. Initial police reports indicate that officers of Rapid Strike were on routine patrol at Congo Court off Step Street shortly before midnight on Wednesday 27th July, 2011 when they observed a male walking through a track road carrying a bag. It is reported that the male on seeing the officers dropped the bag and fled the area. Officers gave chase; however, the suspect was able to evade police. Officers conducted a search of the bag and discovered a handgun along with a quantity of ammunition. Active police investigations continue.
OFFICERS OF MOBILE DIVISION MAKE FIREARM ARREST
Two (2) males, one of whom is a juvenile, are in police custody after they were found in possession of a handgun and ammunition. According to police reports officers of the Mobile Division arrested the pair shortly before 3:00 am on Thursday 28th July, 2011 at Frogman Lane off East Street. Active police investigations continue.