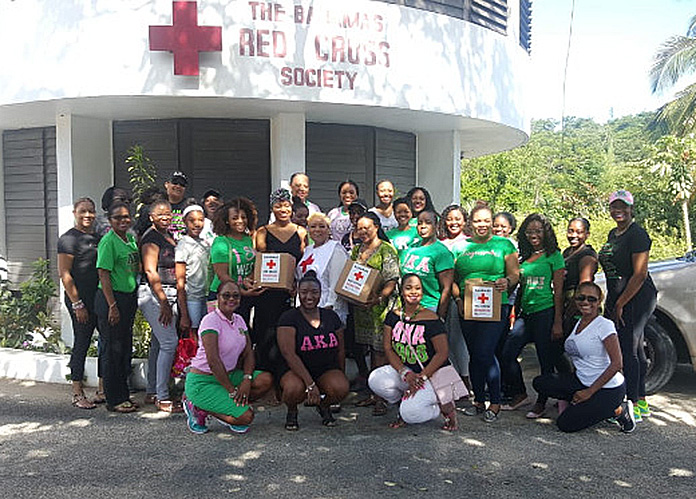 By Mavis Johnson-Collie
Nassau – Fifty five years ago a young American married to a Bahamian Dentist petitioned the head office of the Alpha Kappa Alpha Sorority Inc, AKA, to establish a chapter in New Providence. The Late Muriel Eneas, wife of the late Dr. Cleveland Eneas, himself a member of a fraternity, had gathered together like-minded women who were committed to the high ideals of the organization. On the 21 September 1963, the National President of AKA, Julia Purnell officiated at the chartering of the first greek lettered organization in The Bahamas and the organization's 2nd chapter outside the continental United States. Other charter members were Delores Smith, Donna Donaldson Towns and Shirley Vanderpool.
"The local chapter, Eta Psi Omega, continues to give sterling service to the Bahamian community in New Providence," said local president Ida Turnquest. "This year we observed the 40th year of our scholarship programme, Honours Day through which we have given out more than 200,000 dollars in scholarships to graduating high school females", Mrs. Turnquest continued. In the aftermath of hurricane Joaquin, the chapter donated 55 doors for homes damaged in the family islands.
In recognition of the sorority's accomplishments and thousands of hours of service to local charities, the Princess Margaret Hospital, the Willamae Pratt Centre for Girls, The Bahamas Red Cross and others, Prime Minister of the Commonwealth of The Bahamas, Dr. The Hon. Hubert Minnis, has declared September, Alpha Kappa Alpha Sorority Inc. Charter Month.
In his proclamation, the Prime Minister remarked "The Alpha Kappa Alpha programme today still reflects the communal consciousness steeped in the AKA tradition and embodied in AKA's credo, 'To be supreme in service to all mankind".
In observation of its 55th anniversary, during the month of September, members devoted more than 55 hours of service collectively to charitable organizations favoured by the chartering members of the chapter.
Anniversary activities will culminate this weekend with a joint conference event with other chapters from Freeport and the University of The Bahamas; worship at the St. Marks Native Baptist Church and a Leadership Awards Luncheon. The organization will pay tribute to its members who have given loyal and committed service to the organization for more than 20 consecutive years as well as those members who have provided leadership at the regional and international levels. A highlight of the weekend will be the presence and participation of newly elected international 1st Vice President, Danette Reid and newly appointed International Regional Director, Joy Elaine Daley. They will join local members at a courtesy call on the Governor General, Dame Marguerite Pindling and the President of The University of The Bahamas.
The Alpha Kappa Alpha Sorority Inc. was founded on the campus of Howard University in 1908 and today boasts of an international membership of more than 300,000 members in 11 countries. Its members are all college women of high ethical and moral standing in their respective communities.