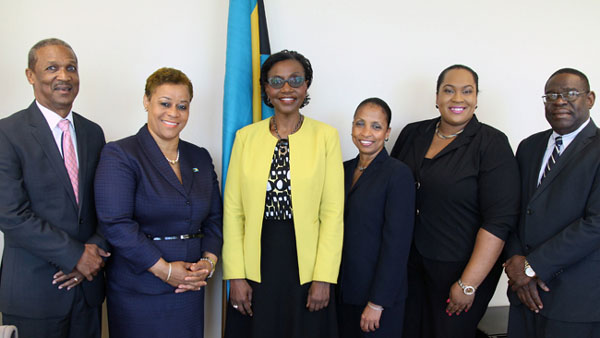 NASSAU, The Bahamas – H.E. Ambassador Rhoda Jackson of the Permanent Mission of the Commonwealth of The Bahamas to the United Nations and other International Organizations in Geneva paid a courtesy call on the Minister of Financial Services the Hon. Hope Strachan, August 20, at the Ministry's offices.
Essentially, Ambassador Jackson is on home leave from her Post as Ambassador in Geneva.
It is normal during such leave for Ambassadors to brief on the porfolio responsibilities of Government Ministries. Accordingly, Ambassador Jackson was fully briefed on responsibilities of the Ministry, including Financial Services, International Trade, the Standards Bureau, Commercial Arbitration and Local Government.
Permanent Secretary David Davis said: "we were particularly delighted to brief the Ambassador on developments towards our ascension to the WTO and the posting of Ms. Tia Hanna, our WTO expert, to Geneva as part of the Ambassador's team."
Ambassador Jackson also had an opportunity to attend an industry briefing by Mr. Pascal Saint-Amans of the OECD Centre for Tax Policy. Mr. Saint-Adams was of the view that the recent black listing by the EU was inappropriate and certainly not consistent with criteria set by the Global Forum.