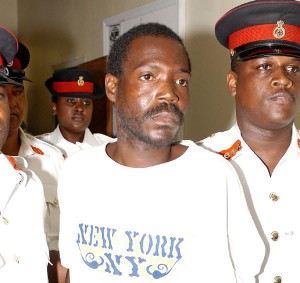 Nassau, Bahamas – Bahamas Press has learnt former convict for rape, Andrew Bridgewater, was arrested yesterday by police after a distress call alerted authorities that the convict had attempted to assault and rape another victim.
Readers would remember Bridgewater was recently released from jail, where he was convicted for molesting a 6-year-old girl and left her to die. BP is calling for a sexual offenders register to be implemented to list all convicts for crimes against children.
Bridgewater pleaded guilty on December 13, 2006 to having unlawful sexual intercourse with the girl after she was found coming from bushes behind the Blue Hill Road power plant.
She was clothed only in a blood stained T-shirt, according to police.
The child's doctor's report revealed that she suffered from a laceration to the labia, bleeding in the vaginal wall, swelling to the forehead, a haematoma to her cheek and vaginal laceration with second and third degree tears from her vagina to her rectum.
The girl had to be hospitalized for two to three weeks as a result of the sexual assault, according to authorities.
Readers should note Bridgewater was release from jail one week before the death of young Marco Archer.
In other news  BP has learnt Rev. Albert Whylly, a former police officer and convict in the rape of his 14 year old daughter, was again convicted in the rape of a 12-year-old girl yesterday, who was also his relative.
Hartman Longley sentenced Whylly to life after being found guilty by jury.
Now get this, Whylly's incident happened in February this year and to date he is convicted. Bishop E. Randy Fraser's case against a dependent allegedly occurred in 2005 and to date the Baptist preacher has yet to know his fate.
Fraser, who was a former teacher and member of the Child Protection Board, has had long delays in the courts going on for the past six years.
We can do better!