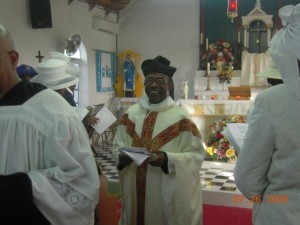 Nassau, Bahamas — Bahamas Press has learnt rector of St. George's in the Valley, Fr. Andrew Toppin, was robbed at gunpoint Saturday afternoon following his return to the capital from a funeral in Eleuthera.
The rector had stopped at the ABM machine in Palmdale. It was then when a bandit approached the priest brandishing a handgun and demanded everything from the cleric, pointing a weapon directly to the face of the Man of GOD.
The robber made good with an undisclosed amount of cash including keys to the rectory, the church, and the parish hall.
The shaken minister was visibly disturbed by the recent incident and could not share commentary with BP.
St. George's Parish has come under a wave of attacks by barbarians recently. It was early August when the third break-in at that House of GOD by demons took place.
"Barbarians are wreaking havoc and terror into the lives of residents all over the country," one parishioner said.
In that last attack, thugs went into the church, pass the BLESSED SACRAMENT and kicked down the administration office doors and ransacked the area with no regard for GOD OR COUNTRY.
"Why would bandits break into the house of prayer? We are selling hope here. We are in the business of saving souls, redeeming workers for the kingdom. Feeding the hungry and sheltering the naked," another sadden member said at the time of the break-in.
And now Fr. Toppin has become the latest victim of crime. The pastor was not hurt however, but visibly shaken by this latest ordeal.
Tommy Turnquest told residents, "CRIME IS UNDER CONTROL!" But here again we all know, Tommy is living is La-La-Land sipping kiwi mystic as he looks over his plush secured compound.