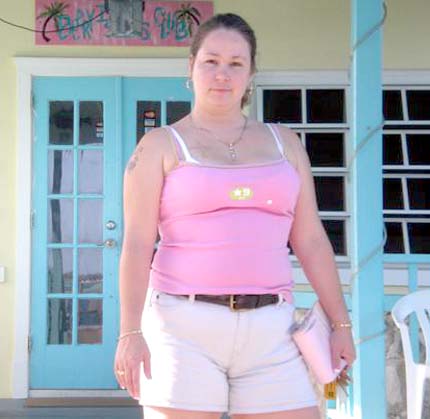 <<< Anna Michelle Garrison, the American woman found dead on Fox Hill Road. An EXCLUSIVE photo of the victim.
Nassau, Bahamas — Bahamas Press believes there is more, much more to the death of Anna Michelle Garrison than police are telling us. Our loyal readers know it, Bahamas Press always has more; much more to a story than members of the WUTLESS Bahamian media would tell us.
We must say firstly, Garrison was living in and out of The Bahamas for some four years now. Why this is, is still unknown. But we now know that Garrison was married to Willie Garrison an abusive spouse. Willie we understand has a brother who lives right here in Nassau and it is possible his residence is the place where Anna stayed.
Up to the end of last year we've learned, Anna was still a resident in the West Palm Beach community. And it was there where she lived with Willie on Diekhans Road in an apartment. We've learned that it was just over 4 months ago, following the US Embassy inquiry, Bahamian police were notified of her disappearance.
Anna went missing in The Bahamas. The FBI in the US 2 months ago went to her apartment in West Palm Beach in search for her. She was not there. We know from Bahamian police here in Nassau, she was last seen in Nassau in January and reported missing on February 25th. The million dollar question is, WHERE Willie Garrison? And is Willie a Bahamian or an American? And for our own concerns we want to know where is Willie's brother in all this if Anna lived with him. BP wants to know, was Willie Garrison's brother a member of the Bahamian arm forces? Our inquiring and extremely inquisitive minds want to know!
The couple we now know was married in 2001. And just months after the wedding, according to West Palm Beach ABC network channel 25, Willie had reportedly beaten Anna in the face and threaten to "push the driver's door against her body so it would squeeze her between the car and the door." Willie was charge for the battery.
Police in Nassau tell us they are looking for a suspect they believe has fled the country. Could this suspect be Willie Garrison (INSET), or could it be Garrison's brother. And if so, where is either men at this time? Police are tight-lipped on all these details.
<<< Here's the man we at Bahamas Press believe is at the center of the police in The Bahamas and FBI investigations. This is a mugshot of Willie Garrison, Anna Garrison's husband. No one has seen him. Police in the Bahamas and the FBI in the US don't know where he is. Willie was arrested and charge for beating Anna back in 2002.