Holmes wanted quick money and so he was hired to fly a Cessna plane Model 310, serial N4592A to Curacao
SANTO DOMINGO–  Antinarcotics (DNCD) agents arrested a Bahamian pilot allegedly hired by Santiago businessmen to fly a drug-laden plane from Higüero Airport to Curacao.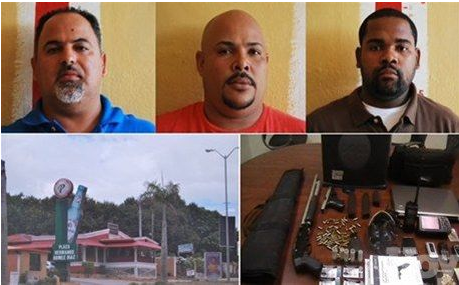 It said Errol Holmes, deported to the United States six years ago, was contracted by ex-convict Sergio Rene Gomez Diaz, owner of the 'Plaza Gomez Diaz," and Christian Antonio Javier Suarez, of the disco "Passion Night Club" in Santiago, businesses which the DNCD raided.
It said agents searched Gomez Diaz's house and business, and seized cash, phones and other belongings.
In a statement, the DNCD said "very important papers were found in both businesses to serve in the prosecution."
DNCD press officer Roberto Lebron said Javier Suarez was arrested at his house on Las Americas highway in Santo Domingo, where they found the Bahamian pilot hiding inside, and seized several air navigation instruments.
"When the agents went to the address the pilot Errol Holmes was found hidden in one of the rooms. He was recruited by Gomez Diaz to fly a Cessna plane Model 310, serial N4592A to Curacao," Lebron said.