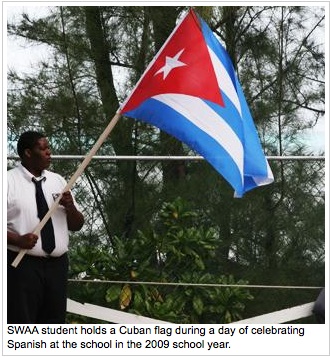 Another Cuban battle appears to be brewing in Spanish Wells but on this occasion the fight may lay within Education.
The Department of Education in August announced that it had welcomed 21 (also listed as 20 in a recent press release) new Cuban teachers to teach in subject areas where there is a shortage of trained Bahamian teachers.
Most of the teachers were assigned to Nassau with three assigned to Grand Bahama, and one each to Exuma, Abaco and North Eleuthera.
They became part of the 102 new teachers to enter the public system this year. It now appears that the Cuban teacher assigned to North Eleuthera, may have been hired to teach Math at the Spanish Wells All Age School, a move that is said to have outraged some of the parents within the community. An emailed letter to Minister of Education, Hon. Desmond Bannister, specifically states "Parents of the Spanish Wells community [are] outraged that the Ministry Of Education would hire a Cuban to teach Math at the Spanish Wells All Age School, when a local teacher, Miss Elaine Higgs who majored in math was not hired."
The Eleutheran spoke with a source close to the school who described the opposition to the teacher as coming from a small cell of parents, who may not have details of the timeline of the application process leading to the hiring of the new teacher. They were not the least bit impressed with the letter surfacing just as the new school year is about to start and the new teacher in place and ready to go.
The local teacher, "Miss Elaine Higgs" is described as having over 15 years experience, having taught at SWAA and Queen's College in Nassau. At SWAA she was listed as having taught, Math, Religious Knowledge and Social Studies until she took a leave of absence last school year to pursue further education. The SWAA school is renowned for the involvement of parents with their students. It is a relationship that principals and others have recognized as being central to the successes the school  has had over the years.