Dr. Hubert Minnis takes another – FNM welcomes former DNA back home to the fold!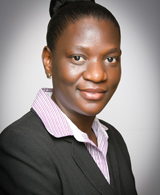 Nassau, Bahamas – The DNA candidate for the Marathon Constituency in the May 7, 2012 general election Karen Davis has officially joined the Free National Movement.
In accepting her membership card Mrs. Davis said, "As a mother of three beautiful children, I am concerned that the downward slope that the Christie led administration is taking our country will continue if we don't unite. Additionally, under the PLP my children and thousands of other Bahamian children will inherit a country void of employment opportunities and without hope. However, I believe the Free National Movement under the leadership of Dr. Hubert Minnis will reverse this trend and put our country back on the path to prosperity." She invited Bahamian families to join with her and the FNM to rescue our nation.
Mrs. Davis is a graduate of the Government High School. She then obtained her Emergency Medical Technology training from the University of Miami. She and her husband Dion are members of The International Church of Christ where she serves as secretary to the Board of Directors.
Free National Movement Chairman Michael Pintard was pleased and welcomed the decision of Mrs. Davis. He stated, "The FNM under the leadership of Dr. Minnis continues to attract Bahamians from all facets of life and all political persuasions to join with the FNM as we ready ourselves to build a better Bahamas."