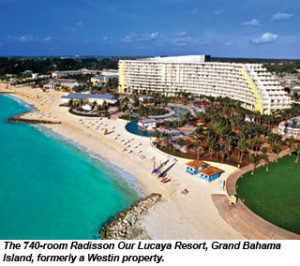 Jones Town, Eight Mile Rock — There is sad news coming out of recession ground zero Grand Bahama tonight where Bahamas Press agents in that community report the death of a fired worker from the Our Lucaya Resort.
BP agents on the ground in the community of Eight Mile Rock tell us, 37-year-old Dario Gibbs, one of the first to be terminated two weeks ago from the Our Lucaya Resort, suffered a massive heart attack tonight and died.
Gibbs we are told was under a weight of stress due to his termination from the hotel and was fighting to make ends meet. We are also told by family members; Gibbs took his termination hard as he could not afford the basic needs for his family; wife and two small children. Dion obviously didn't find this hardworking father a job.
Gibbs, a former restaurant waiter, was said to be the best in the industry, working long hours and filling in where needed. He will be miss.
We wonder what the VILLAGE IDIOT, Vernea Grant, has to say tonight. Missing in action as usual!
We at BP offers our prayers to the family in this most tragic hour. May his soul rest in peace.