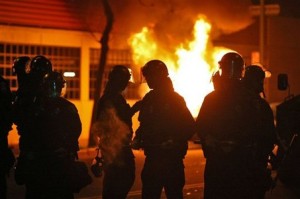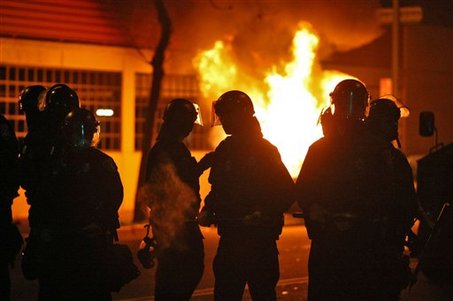 POLICE INVESTIGATES CHARRED REMAINS FOUND IN HOUSE FIRE
Police are investigating a house fire that has left two people dead. The incident reportedly occurred shortly before 2:00 am on Sunday 12th June, 2011 at Excellence Gardens off Golden Isles Road. Fire Services responded and on arrival discovered a six (6) room wooden structure engulfed in flames. On completion of extinguishing the blaze, which completely destroyed the home, officers conducted a search of the home and discovered the charred remains of two (2) people, believed to be a male and a female. Police are investigating and appealing to members of the public to have a fire safety plan in place, before going to sleep. Unplug any appliance that is not in use, i.e. T.V.'s, computers, stereos and ensure that all candles are extinguished.
RAPID STRIKE OFFICERS DISCOVER FIREARM
Officers of Rapid Strike removed a shotgun with shotgun shells from the streets of New Providence early this morning. The discovery was made around 12:30 am on Saturday 11th June, 2011in a parking lot at St. James Road. Police reports indicate that while on patrol in the St. James Road and Abraham Street area, officers of Rapid Strike conducted a search of the five (5) Star Bar parking lot and discovered the shotgun and its shells. No one was taken into custody. Active police investigations continue.
SUSPECT IN POLICE CUSTODY
Police are questioning a 28 year old male of Toote Shop Corner in connection with a shooting incident that has left a female in hospital in stable condition. The incident reportedly occurred sometime around 3:30 am on Monday 6th June, 2011 at a home on Fritz Lane off East Street. The male was arrested sometime around 10:55 am on Thursday 09th June, 2011after he turned himself into officers at the Southern Police Station, Market & Quakoo Streets. Active police investigations continue.
SOUTHERN STORM HITS AGAIN
Officers of the Southern Division (Southern & Grove Police Stations) took to the streets again, within their divisional boundary executing search warrants, uprooting criminals and citing traffic offenders. The operation occurred between the hours of 4:00 pm and 10:00 pm on Thursday 9th June, 2011. As a result of the operation nine (9) people were taken into custody for various offences such as Possession of Dangerous Drugs, Unlawful Possession, Threats of death and Housebreaking. Additionally, a male was arrested on an outstanding Warrant of Arrest and five (5) people cited for various traffic infractions. The officers of the Southern Division encourages residents within their divisional boundary to abide by all laws as they continue with their efforts to make this Bahamas a safer place to live, work, visit and play.
POLICE INVESTIGATES INJURED MALE FOUND IN STREET
A man is in hospital after he was found lying in a street at Haven Subdivision off Soldier Road. Shortly after 1:00 am on Saturday 11th June, 2011 police received a call regarding the incident. On arrival to the scene officers discovered the male wearing all black clothing with injuries to the body. The victim was taken to hospital via EMS personnel where he is detained in serious condition. At present police are uncertain of the circumstances surrounding this incident; however, police are investigating and are appealing to members of the public who may have any information that can lead to the arrest of the person/s responsible to call police at 911, 919, CENTRAL DETECTIVE UNIT at 502-9991, 502-9910 or CRIME STOPPERS at 328-TIPS.
POLICE INVESTIGATES ALLEGED DROWNING
Police are investigating an alleged drowning incident that occurred at South Beach. Police reports indicate that the incident occurred sometime around 4:40 pm on Friday 10th June, 2011 while the victim and family members were swimming at South Beach. The deceased, who is believed to be in his late 60s, was taken to hospital via EMS personnel where he was pronounced dead. Police investigations continue.