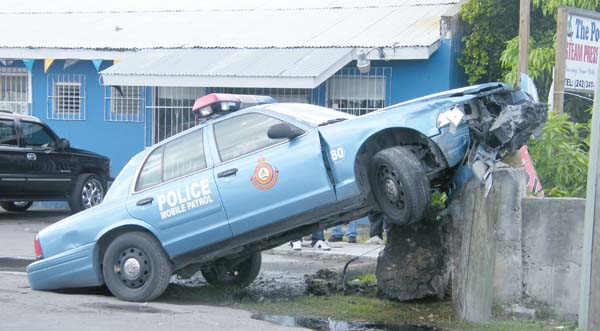 <<< A police patrol vehicle ran off the road around 9:10 am this morning as a motorist failed to pull onto the side of the road; causing this police vehicle to crash into a wall on Carmichael Road opposite Bamboo chicken shack. The officers were unharmed.
Nassau, Bahamas: Here's a police crash this morning as they were responding to an emergency call. They were speeding fast. Carmichael Road was no different than its usually state on a Sunday morning. The road was congested as hell. Traffic crawled to a snarl and the police were coming close between that traffic speeding.
Some people decided to pull onto the side allowing the vehicle to pass, some others decided to block the road. With quick driving skills the officers meandered their way through. This is a new culture in the treatment toward police. As the officers in this vehicle approached Bamboo Shack on Carmichael Road, turning out of a corner onto Carmichael was the driver of this gold Volkswagen Jetta [BELOW]. He didn't stop or pull out of the way as the loud siren approached; but rather he moved directly into the way off the the speeding police car, which was traveling west.
BAM!!!! The next thing we knew the officers in the patrol car were riding up a wall. Another police patrol car is off the road with the citizens having one less vehicle to combat the violent crimes now happening all across New Providence.
Why are motorists head soo hard? How hard could it be to simply pull onto the side or stopping at the sound of a siren? Where in the world has this public defiance come from? Why are motorist willing to put their lives and the lives of others at risk? Something must be done about this!
Cause when we look at this picture, we all suffer all because of someone's FAILURE TO OBEY THE LAW! When ever you hear the sound of a siren, GET YA YOU KNOW WHAT OFF THE ROAD!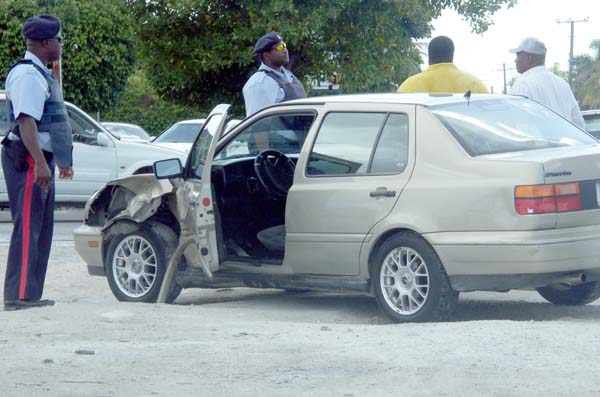 The driver who hit the vehicle of officers as they responded to an emergency.