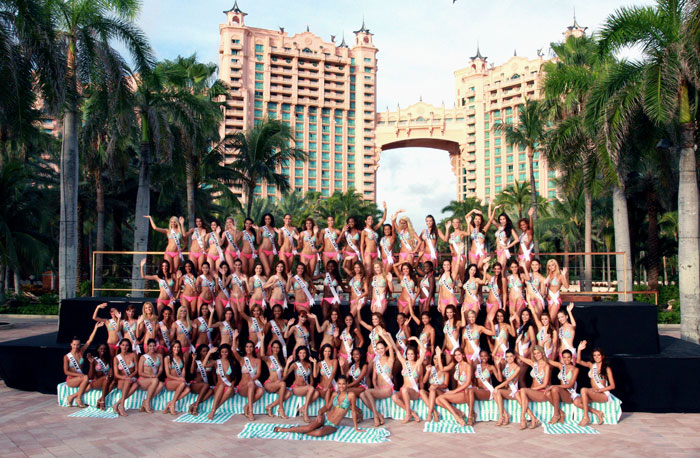 The AIDS Foundation was chosen the recipient of the State Gift Auction – an important component of the Miss Universe Competition, held August 13 at Sheraton Nassau Beach Resort.
Nassau, Bahamas — President of the AIDS Foundation, Camille Barnette, said that this donation pushes even further efforts to eradicate the scourge of the HIV and AIDS.
"The National Gift Auction is a tradition of the Miss Universe Competition and we are very delighted that the AIDS foundation was selected to be recipient of the proceeds from this auction," said Camille Barnett, President of the AIDS Foundation of The Bahamas.
"We have an interesting collection of gifts from the contestants – some of which are absolutely fabulous.
"For example, there is a Nascar Helmet (donated by Miss USA Kristen Dalton) signed by 34 of Nascar's superstars, among other fabulous things."
Items ranged between $35 to $5,000 with opening bids starting as low as $15. "There's something for everybody's pocketbook," noted Mrs. Barnett.
Of particular note was a gift from Miss Australia, Rachael Finch, who presented an exclusive indigenous necklace with Argyle diamonds designed by Temelli Jewellery and inspired by Kngwarreye, an Aboriginal artist and designer. It is valued at $4,500.
Other pieces of note included a hand woven indigenous Mayan tunic donated by Miss Guatemala, Lourdes Figuerosa; bedroom furnishings inspired by the patterns of "Tree of Life" by designer Ritu Kumar donated by Miss India, Ekta Chowdhry, and a glass sculpture created by well-know contemporary artist Ioan Nemtoi, donated by Miss Romania Bianca Constantin among other beautiful items.
Miss Bahamas, Kiara Sherman's donation was a yellow and lime green ceramic tea set. The cups were accented with cowbell handles and the saucers were formed in the shape of seagrapes with cowbell insignia.
The AIDS Foundation of the Bahamas was established in l992 with the mission to support the fight against HIV/AIDS in the country.
One of its major successes was the AZT program in which the Foundation purchased the AZT medicine for the Government operated HIV/AIDS Programme for HIV positive pregnant women.
It resulted in a decrease in the mother-to-child transmission rate from 30 percent to less than one percent.
Another major step by the Foundation is the creation of a home for children who are HIV positive.