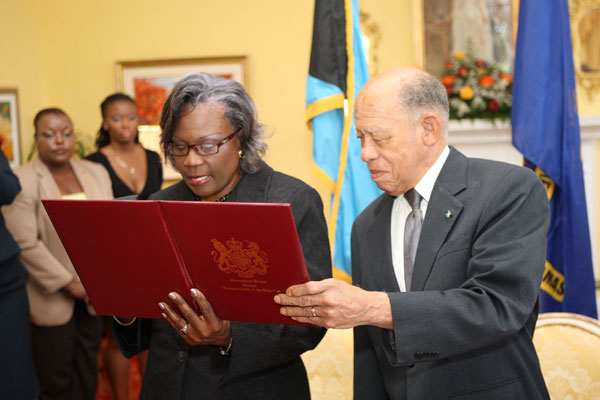 Nassau, Bahamas — The sweetheart of Hubert Ingraham's friend now receives her 'sweetheartin' honour for excellent "SERVICE" rendered.
On Friday August 14, Rhonda Bain, was sworn in as a justice of the Supreme Court at Government House by the Governor-General, His Excellency Arthur Hanna. Ms Bain is pictured [here left] taking her oath of office.
Bahamas Press rejects this 'VICKED' plot in the INGRAHAMIZATION of the Supreme Court bench. Bahamians should ask, what are the views of this woman? What are the ideals she uphold? Where is her position on matters now affecting the judiciary and what is her position on marriage, rape and SCREWING AROUND!? WE 'GATA' STOP BEING WUTLESS IN THIS TOWN YA KNOW! THE BAHAMAS IS FAST BECOMING ONE WUTLESS JUNKNAOO SOCIETY, where anything buckup goes whilst people cannot be delivered justice in the land!!
We would be the first to say that the process to appoint Justices in this country is flawed. ANY TOM, DICK, JANE or Harry could be appointed to uphold law in this town and no input is shared with the public. ABSOLUTE FAILURES are being appointed to the Bench and the ones ABLE and CAPABLE to serve are being overlooked, DENIED APPOINTMENT! Does one have to sleep with someone close to the PM in order to receive an appointment to serve their country? WHAT IN THE HELL IS THIS?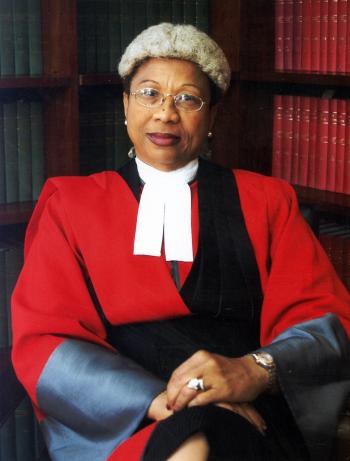 Why is, Senior Justice Anita Allen, [inset below] overlooked for the appointment of Chief Justice in The Bahamas? Why is Ingraham once again appointing someone to the bench who has a clear position of BIAS towards the FNM? IS JUSTICE IN THE BAHAMAS BLIND ANYMORE? And here once again, the PLP with all that BAND OF LEGAL MINDS, sit idly by and says not a DAMN WORD! This is remarkable!
Now we know some will call this attack NASTY, but when one can be so bold as to appoint the sweetheart of his best friend to the Supreme Court, persons must see that as a NASTY attack against the people of this country! Or as Rodney Moncur said, "DAS RAPE"!

Hubert Ingraham should be SHAME OF HIMSELF! Here's a moment he should hang hiss head down in DUTTY SHAME! But we know, he has NO SHAME.
Boy The Bahamas is moving from failure to a level of 'DUTTY' failure!
WE NEED CHANGE BAHAMAS, WE NEED CHANGE!